Tarantino's two and half hour time machine is a shining tribute to his memory of making movies and TV in the 60's in LA, but this film feels different than his previous work. It's obvious Tarantino loved telling this fable and we liked watching it. It's also a heavyweight acting match between Leonardo DiCaprio and Brad Pitt and Pitt wins the belt.
There is not as much comedy as we thought there might be from the trailer. There are funny moments, but it's really a wistful and nostalgic take on that era.DiCaprio and Pitt's characters may have never existed, but Margot Robbie and Mike Moh play Sharon Tate and Bruce Lee, and they, along with many others who pop up, did! They are all part of Tarantino's fantasy.
This film, like some of his other films, is more a series of acts. Tarantino gave his leads an immense amount of detail before DiCaprio and Pitt even stepped on a set. As a result, their characters bonded showing a surprising amount of emotion in their relationship.
DiCaprio as Rick Dalton and Pitt as Cliff Booth can't seem to function without each other. They've often been considered as actors from the same mold up for the same roles. Tarantino takes this to his advantage by making DiCaprio the fading star of Bounty Law, a 50's TV Western with Pitt his virtual shadow as his stunt double and best buddy.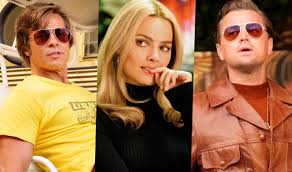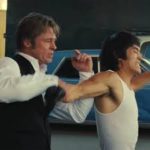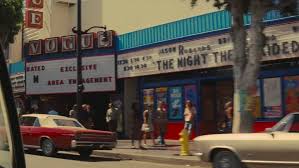 Now that work is scarce, he's reduced to being Rick's driver, handyman, and general gopher.(Yes, he takes off his shirt in this one and it's still a sight to behold). Dalton is relegated to making guest appearances on other TV shows and disguised as various villains and cartoonish characters in others. It's pathetic seeing his face being covered up with fake beards and mustaches to star in lesser roles. His turn as a flame-throwing Nazi killer is the most ludicrous of all. Tarantino shows a scene from "The Great Escape" supposedly showing Dalton's audition to star in that film which ended up starring Steve McQueen. Damian Lewis plays McQueen in a cameo.
And the scene in a Western where he continually flubs his lines is painful. That scene could definitely have been shortened. DiCaprio is excellent showing his utter frustration embarrassing himself in front of the crew. And he is excellent, as well, showing respect for the little 8-year-old, (Julia Butters), who is quite the actress and plays way more mature than Rick will ever be. When the director yells cut, she compliments his acting as "the best she's ever seen!" We would not have been surprised if Tarantino had added an end credit saying that 15 years later, she became a studio head.
Haven't seen Pitt in starring roles in awhile and when we saw how good he was here, we realized how much we missed seeing him. The scene where he fights Bruce Lee and the way he feeds his dog (another fun character) are hysterical. But when he picks up a teen vixen hitchhiker, Pussycat, (Margaret Qualley in a breakout role) his demeanor changes. She leads him to George Spahn's ranch where he and Dalton shot their Westerns. That's when he really emerges as a forceful character in this film. He comes face-to-face with Charlie Manson's cult acolytes and with George, Bruce Dern just playing another crusty character). How that scene plays out is Tarantino at his tense best. The director imbues Booth with heroic fearlessness he never got to portray on screen.
Margot Robbie, as Sharon Tate, is a juxtaposition to where Dalton's career is. His star is fading while hers is on the rise. She's still starstruck and so excited seeing herself on the big screen with Dean Martin in the Matt Helm movie playing a klutzy blond. Although Tarantino put Dalton in the "The Great Escape" clip, he uses the real Sharon Tate, not Robbie, in the actual Matt Helm movie, "The Wrecking Crew." Was Tarantino trying to pay homage to Sharon Tate? There are a lot of shots of Robbie's face and her feet, but, for the most part, especially at the critical moment, her presence is lacking.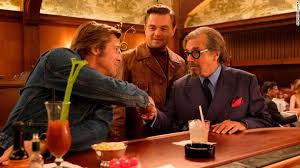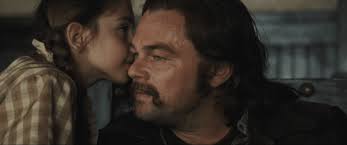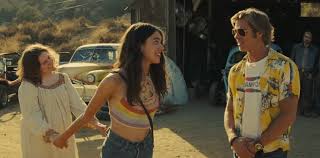 Kurt Russell is underused in this film. He plays Randy, the filmmaker who is wary of Booth being on the movie because of suspicions about a very dark incident that makes Randy's wife crazy. Al Pacino plays Marvin Schwarzs who is the loud, predatory Hollywood huckster of a talent agent lining up these roles, including the crazy Spaghetti Westerns, the titles of which are hilarious. The only plus for Dalton was bringing back an Italian wife.
This is not biographical. In 1969, Tarantino was only 6 years old. But he richly details the place and time with the cool old cars, the radio full blast playing songs from Paul Revere and the Raiders and Deep Purple to Mitch Ryder and Neil Diamond; even radio commercials from that era. And you see TV shows like Mannix, the FBI, Robert Goulet singing on a long gone variety show, a party at the Playboy Mansion with the Mamas and the Papas, bunnies and all. Tarantino used no CG special effects to set the scene for the period. They built false sets for all the buildings.
At 160 minutes long, you'd think you'd get bored but nobody, including us, took a break or budged in our screening. It kept our interest, but Tarantino just can't seem to put some of his beloved shots on the editing floor. Cinematographer, Robert Richardson (who has shot all of Tarantino's work since Kill Bill) gives this film a smoother look than his director's previous films. Some of the scenes are unnecessarily long which has always been a factor in Tarantino's movies.
This fable is destined to be another Tarantino classic. It may not be his best, but it's certainly one of his best 2 or three. This film may not make you forget Pulp Fiction or Travolta's performance, but with DiCaprio and Pitt leading the way, we think you'll find Tarantino's long fairy tale a memorable night at the movies.
Sony 159 minutes R
from Movies and Shakers https://ift.tt/2K3E6Jg