Jesse Eisenberg, Alessandro Nivola, and Imogen Poots showed they could learn new tricks and kicks for this surprisingly funny and entertaining, dark, deadpan comedy. It's a statement on masculinity dreamt up by Writer/Director Riley Stearns in only his second feature. He wanted to put everything he loves in this movie. Set in the 1990's, that includes death metal music, martial arts, comedy, and dachshunds. He calls it "a cross section of my brain." Pretty scary. 
Casey (Eisenberg-Batman vs Superman, Now you See Me) is a weak, meek office worker who gets randomly beat to a pulp by a very scary motorcycle gang. The horrific scene of his being terrorized and beat up by this masked gang is very disturbing. Casey decides to find a  way to defend himself by signing up for karate lessons. The school he chooses is much more than he bargained for with a strong machismo Sensei (leader) who touts some very bizarre rules and attitudes. Jesse looks to him for guidance but finds it curious and uncomfortable. 
In the Red Carpet interviews at SXSW with the cast and the director, Eisenberg told us it was a challenge both mentally and physically, but the ideal kind of a role he absolutely loves to do and described the hardest karate move he had to do for the film. Allesandro Nivola (Disobedience, American Hustle) has a complex role as Sensei, the intense and charismatic leader of the karate school. He's strong, strict and is constantly harping on his clients to be more masculine. In his first meeting signing up Casey, Sensei comments on his new student's feminine-sounding name.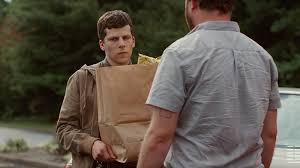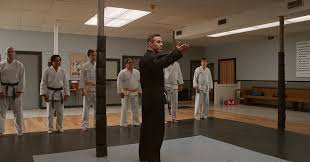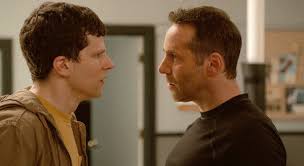 Nivola has fun with the role even though he only had 3 days training to learn the karate moves to make his teaching style  believable. He likened the choreography to doing a Charley Chaplin routine. He does a good job spouting long monologues while jumping around doing these very physical moves. Poots, as Anna, wanted to do another film with Eisenberg. The last one they did together was when they were kids. She also gets very physical doing martial arts in this one which was not anything like her normal workout routine. She plays a pretty tough cookie, taking the tough training from Sensei rather seriously, even though she's treated like a second class citizen, meaning female.  On another front, one of Casey's classmates, played by David Zellner, gets frustrated taking lessons for a long time and not getting the recognition he craves from the Sensei. The retribution taken out on him for his disobedience is a shattering moment.
Eisenberg is perfect as the sad, stiff, quiet and nervous, obsessive/compulsive, dead-pan accountant. He speaks in a uniquely stylized manner. He goes on long, rambling, fast-paced, monotone speeches that are difficult to understand at first. As the film progresses and we get into the rhythm, Casey's stream of conscious diatribes become an important aspect of the humor of this character.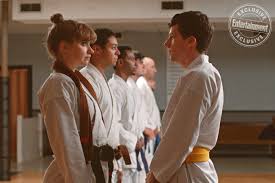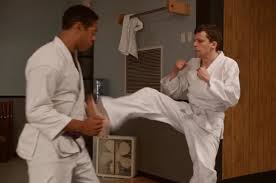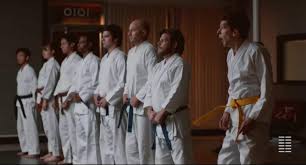 He's totally ignored by his co-workers and is pretty much a loner, going home to his little dachshund who is a character unto his own. He's also spending time studying French. It gets fun when Casey gets a little confidence under his yellow belt which Sensei sternly warns he'll have to pay for if he loses it. It's all very tongue-in-cheek. And it's very funny when he finally confronts his co-workers with his bravado, even treating his dog tougher and switching to German instead of French because It sounds more masculine. 
Stearns throws the whole film on its ear from there with one twist after another leading to some gasp-worthy surprises ad an unlikely alliance with Anna (Poots). Some at first look like they'll be fun, but take gruesome turns. In a way this movie imitates judo itself, keeping the opponent off balance and using his own strength as a weapon against him. Stearns has done a good job keeping us off balance too. This dark comedy keeps you guessing to the very end. You'll want to give it a high kick. 
Bleecker Street Media         104 Minutes              R
from Movies and Shakers https://ift.tt/2Lkeg6W