Notable and notorious IndieWire film critic David Ehrlich recently put out a social media call for film critic peers to join a weekly survey to discuss movie topics, answer questions, and highlight their work. Representing Every Movie Has a Lesson, I, along with over 60 other emerging and established film critics including some of my fellow Chicago Independent Film Critics Circle members and Aaron White of Feelin' Film, accepted the invitation to participate. I'm honored by the opportunity, and I hope my responses are chosen each week.
---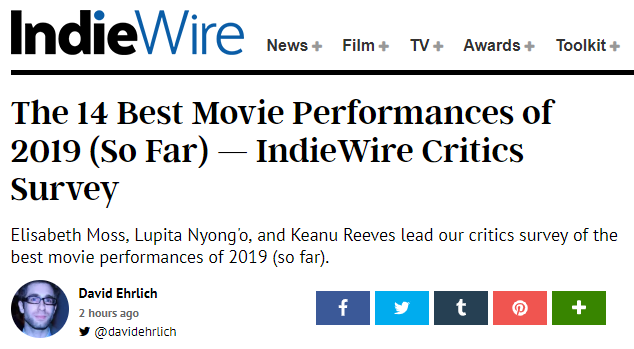 THIS WEEK'S QUESTION: With 2019 almost half-over, what is the best movie performance of the year so far?
With June soon swooning to July, critics will start making their halfway and "so far" lists of films and performances. David Ehrlich put performances on the table to measure for this week's survey and an outstanding list was built. I love the selection of Lupita Nyong'o from Us. She would be my 1A choice, but I was wowed this weekend by Ann Lupo in a little movie call In Reality which just won the top award of the debut Rom Com Fest in Los Angeles. Give this week's survey a look.
THE FULL INDIEWIRE ARTICLE THIS WEEK
LOGO DESIGNED BY MEENTS ILLUSTRATED
from REVIEW BLOG – Every Movie Has a Lesson http://bit.ly/2XzPHIE
via IFTTT