Strong females present a new point of view in an elaborate and elegant interpretation of Hamlet. Daisy Ridley, (of Star Wars fame), gets to go back in time for this one. And Naomi Watts is intriguing playing dual roles. Set in the 14th century this presentation shows a little more modern approach, as might be expected from Director Claire McCarthy and Writer Semi Chellas (Mad Men). There is plenty of dialogue to explain the twists and turns of this take on Shakespeare's Hamlet and it's very well done, with lots of emotion. 
As Ophelia, Ridley is in just about every scene of this dramatic adaptation from Lisa Klein's novel. Seeing her floating serenely in a still pond behind the castle before the opening credits is reminiscent of paintings of Ophelia's death, including the famous mid 19th century one by Sir John Evertt Millais. But in the film, she is alive, which is a curious sight that lets you know this plot is going to be different. Cinematographer Denson Baker creates beautiful scenes in this film, especially the landscapes that look like paintings. 
Changes are afoot. Director Claire McCarthy turns the story of Hamlet on its head with tension at every turn because there are more secrets, plus there's more lust. The biggest change to Shakespeare's original story is that Ophelia has a much bigger presence and is able to manipulate the men in her life rather than be controlled by them.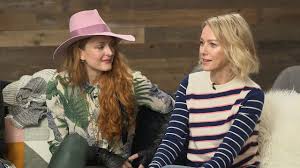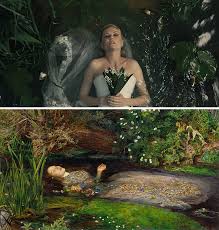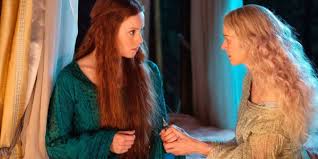 Ophelia, the daughter of Polonius, has no mother. She has a loving father who is trying to do the best he can, which isn't much. Queen Gertrude (Watts) takes pity on the girl and makes her a lady-in-waiting. Watts is beautiful and charming as the Queen. Her costumes are exquisite. She is much younger than King Laertes (Tom Felton). The smarmy, ambitious brother of the King, Claudius (Clive Owen) wants the throne and Gertrude.Their back palace hallway encounters are erotic and dangerous. 
When Gertrude's son, Hamlet (George MacKay) returns from school to the Kingdom of Elsinore, he is so fawned over by Gertrude, it's almost sickening. She treats him more like a boy than a man. There is a banquet with a feast with music and dancing exposing great detail in rousing celebration in the beautiful setting of this Danish castle.
Hamlet takes a liking to his mother's new lady-in-waiting. Gertrude likes her  too, because she's different than her other maidens. She particularly likes that Ophelia knows how to read and really appreciates hearing her read a juicy book out loud at her bedside instead of her from the book of her evening prayers. Interesting twist. 
Hamlet is the young, handsome prince who could make Ophelia's life that much better. He is smitten with Ophelia. They fall in love, but the story plays out a little differently than Shakespeare intended. The power struggle for the kingdom between Claudius and Laertes with Hamlet in the mix causes dire problems. At one point, you expect Hamlet to deliver that famous line, "Get thee to a Nunnery," but that line gets changed here to mean something entirely different.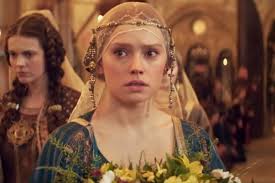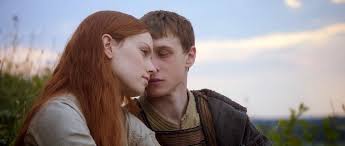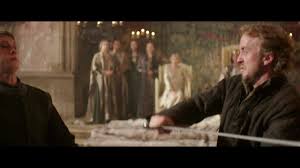 In the meantime, Gertrude thinks a special potion from a witch, who happens to be here twin sister, can help her distressed situation. She goes into the forest herself the first time we get to see her twin. But she trusts Ophelia so much, she sends her the next time for a different potion that could affect everyone's fate. You kind of expect a Hansel and Gretel moment from the mysterious, ugly witch who lives in a cave. There begins even more intrique and tension. Then, when the power struggle begins for the kingdom, there is a secret wedding, a sword fight, poison, a changing of the guard and even a pregnancy. Whew! 
Ophelia is the one who knows all in this version of Hamlet. She is rebellious and, though often silent, she takes control. Her father is a casualty at the hands of her beloved Hamlet and he dies, too. She keeps on, taking fate into her own hands.
This is a very different take on Shakespeare's Hamlet. But the production design, cinematography and the performances of Ridley and Watts make this a film worth watching. Something must've been rotten in Denmark, but it is not this movie. 
IFC Films           107 minutes             PG-13
from Movies and Shakers https://ift.tt/2IJwDzy