What begins as a summer frolic in the beautiful compound of a nature loving commune turns into an über-grotesque, gory and disturbing story of betrayal. Sweden may be one of the happiest places on Earth, but Australian Writer/Director, Ari Aster (Hereditary), shows us the most disturbing bunch of blondes you could ever imagine. It's visually intriguing that such a dark theme is cloaked in sunshine, white frocks and an extended Maypole dance.
Aster wrote and directed this film using mythology, psychological manipulation and abundant use of hallucinogenic drugs to move the story and explain the motivations that drive the cult. With Hereditary and this film, the Director has a very convoluted vision of family and a very dark, but vivid imagination. 
He uses slow pans, follows, zooms in and out leading to the disturbing acts of the cult's traditions. It's what you expect from a horror film but some moments turn into a languorous slog trying to follow the psychological manipulation behind their actions.
Midsommar is also a bizarre examination of finding one's place and family. Dani Ardor (Florence Pugh) is the lynchpin who slowly comes to appreciate the the cult even though they engage in shockingly brutal acts that go far beyond murder. In the name of finding harmony with nature they stuff their victims' bodies with branches or flowers and even defile bodies removing organs. By the time Aster shows these scenes the audience has already seen so much gore these are no longer gasp inducing.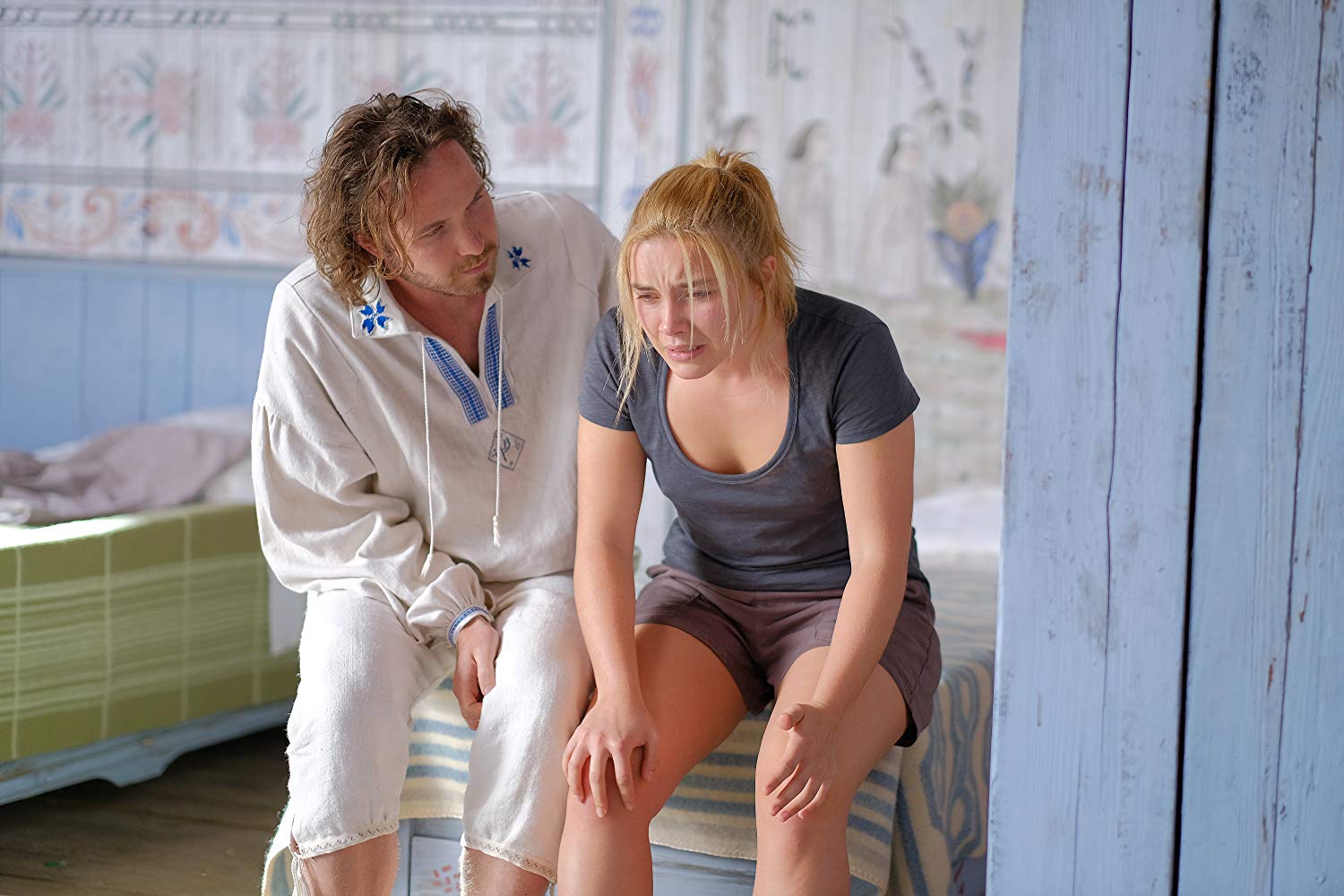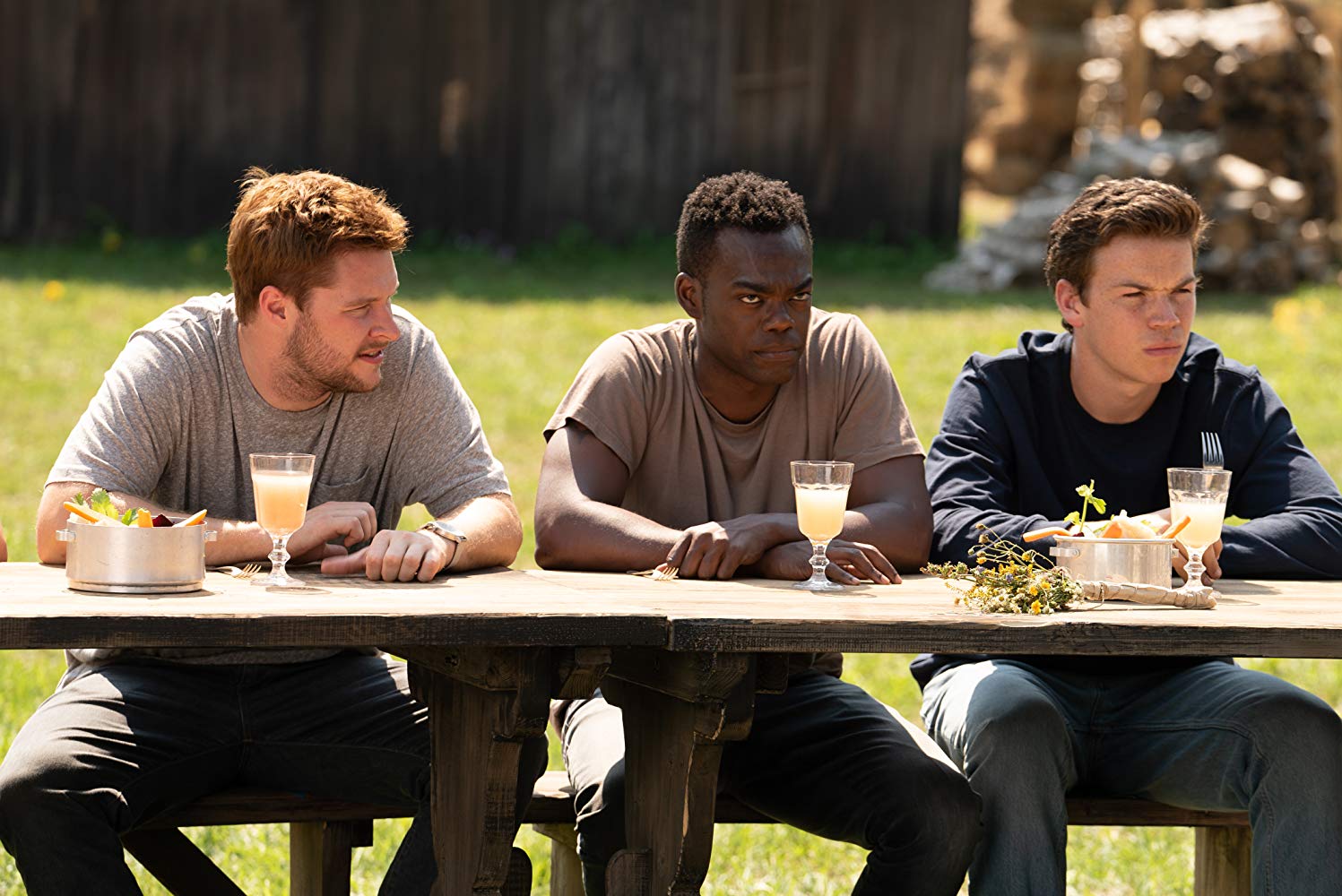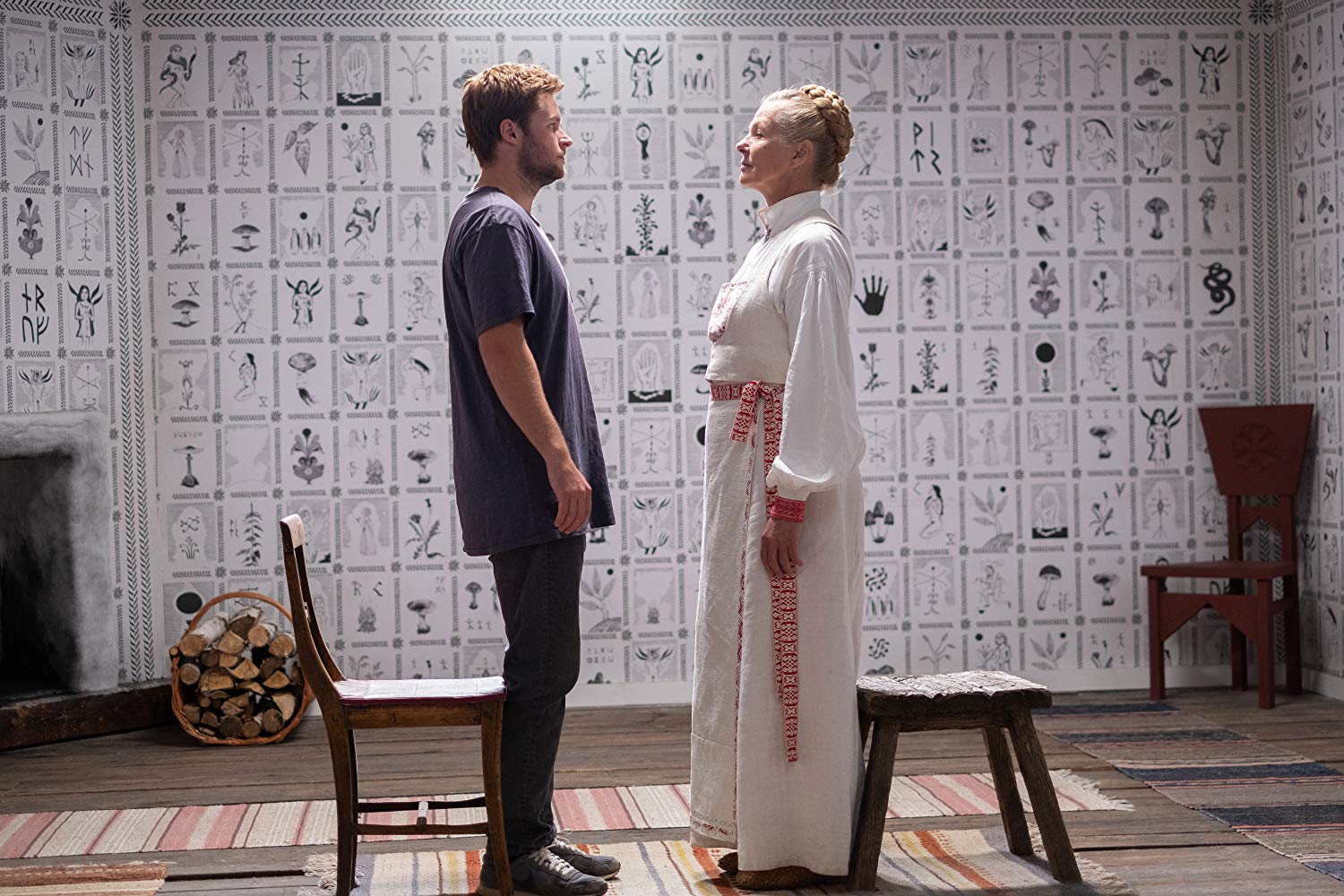 Clues are dropped so you know something horrific is about to happen, but the reality that comes to pass is even more sickening. There just aren't enough surprises in this movie. When we see a wall filled with murals and paintings filled with symbols of mysterious and magic significance we're told up front what will happen to the visitors. 
Aster and his production designer Henrik Svensson built this "Hårga" village from the ground up on their filming location in Hungary. It's ostensibly a bright, pristene, happy place. The buildings are a mix of interesting angles, triangles, circles and squares none of which seem to fit together.
Even names telegraph characters' fate. Dani Ardor is a woman of passion looking for love. Christian, like Christianity, has no place in this pagan paradise as he will discover. When the ceremony begins to pick the "May Queen" you know the outcome both for Dani and for all the other visitors/infiltrators. Since you know their ultimate fate, how they get there becomes less compelling.
The film begins in tragedy as Dani endures the worst for her parents and mentally ill sister. Her primal howls of grief are authentic and important. Her only comfort comes from her longtime boyfriend Christian (Jack Reynor) who is less than completely sympathetic. He's being encouraged to dump her by his friends Josh (William Jackson Harper) and Mark (Will Poulter).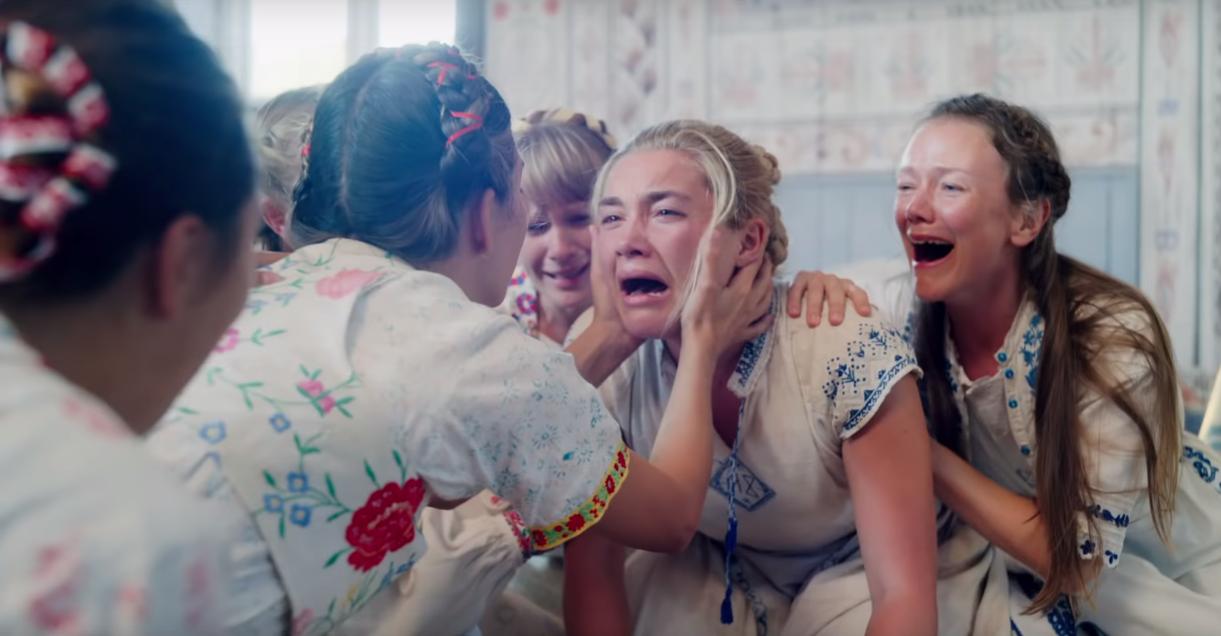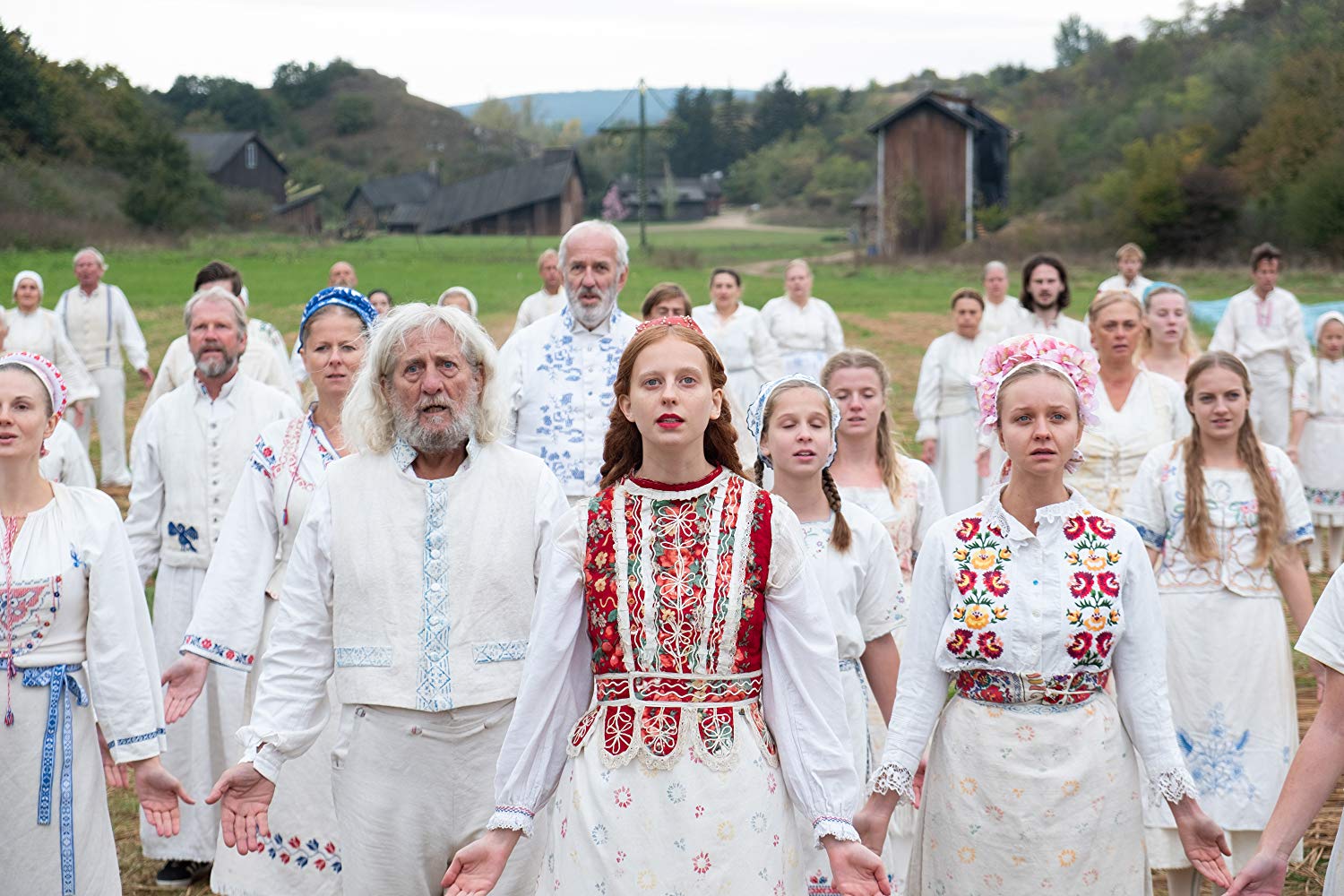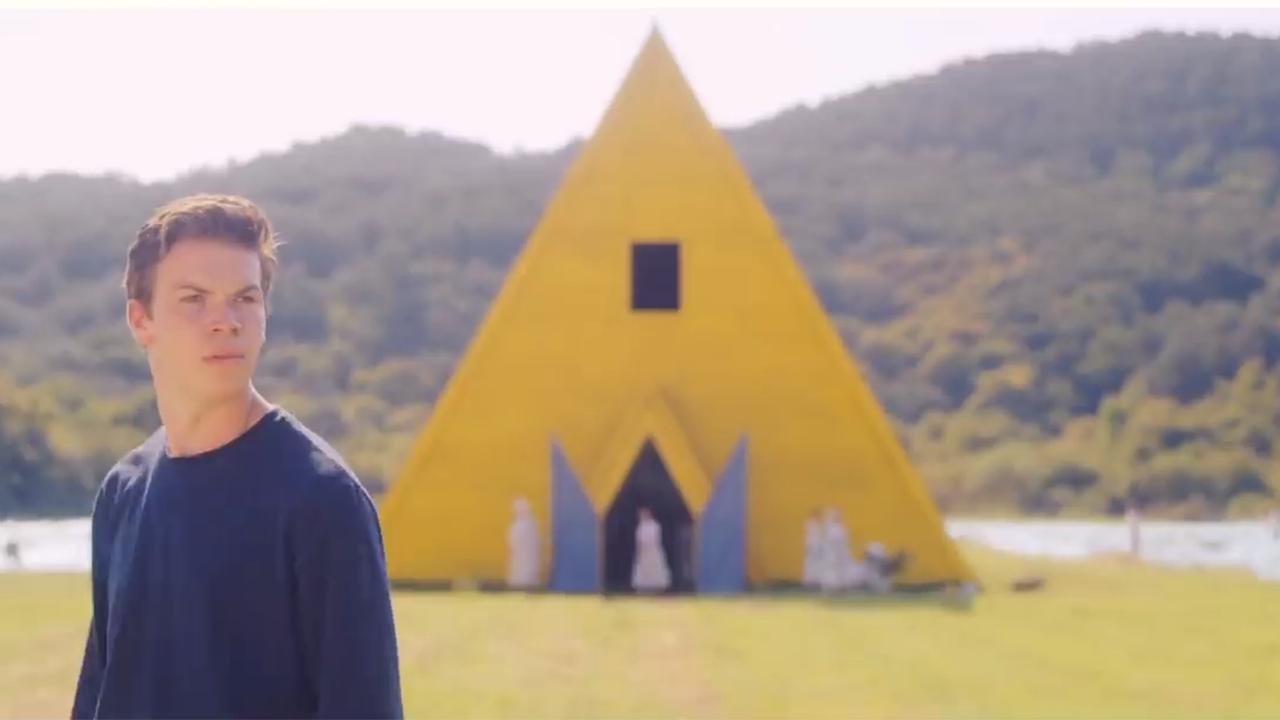 They want Christian to put some distance between them by joining their trip to the country home of  Swedish bud, Pelle (Vilhelm Blomgren). Josh wants to go there to work on research for his doctoral thesis focusing on how summer was celebrated by ancient Europeans. Christian never expects Dani to accept his lukewarm invitation. With nothing else in her life, she accepts.
The camera ultimately sees this story through Dani's eyes. Florence Pugh is a mesmerizing vision with her large, wide-set eyes and her open face that always mirrors her emotions. Her voice is lower and throatier than the lyrical Swedish females in the compound. That difference is accentuated when she sings a full octave lower than the woman she mimics in a folk song.  The score throughout by Bobby Krlic includes hollow sounding dissonance with long stretches of flute and string hums under the action which only emphasize it.
For all the blood, guts and a bit of bizarre cannibalism in Midsommar, there are also more than a few laughs and most are planned. At every turn Will Poulter's character throws in off-hand cynical quips and his only job is to be the lecherous, ugly American. An extended sex-orgy scene that involves a naked couple copulating in front of a semicircle choir of more naked women received lots of nervous laughter that Aster may not have intended. 
The Hårga is a matriarchal community so this story has an underlying statement about female empowerment and Dani awakens to her place within it. As a result, the story also takes us down the path of a woman's revenge fantasy turned into reality. That may make Midsommar the most painful break-up movie…ever.
A24            140 Minutes              R
from Movies and Shakers https://ift.tt/2LhBmdG