This nostalgic and beautiful film has many emotional layers. It's about love of family, community, friends, art, architecture, and storytelling. And it's about the city of San Francisco, which is not what it used to be.   
Joe Talbot directs his first feature film which he co-wrote with friend and first time actor, Jimmie Fails, and writer, Rob Richert.  It's actually partially based on Fails' own life.  Fails, with the help of his best friend in the film, Montgomery (Jonathan Majors), wants to take back the magnificent old Victorian in the Fillmore district that his grandfather built. He just loves that house with it's distinct turret called a "witch's hat."
Cinematographer Adam Newport- Berra makes the Victorian home itself a character by lovingly shooting every detail, inside and out of the home. You, too, grow to love it and root for these young Black men who have become so disenfranchised by their own city. The music adds to the film. Even the song "San Francisco" (Be Sure to Wear Some Flowers in Your Hair)  was re-recorded in a soulful, gut wrenching version by Michael Marshall. Talbot grew up to his parents' hippie '60's songs from Jefferson Airplane, Joni Mitchell and lush scores from films including The Piano. This is Emile Mosseri's first opportunity to score a feature film and he fills it with beautifully evocative music.
Jimmie is so passionate in his zeal for this house. He paints the trim while Mont looks on. This all takes place while the present owner screams at them to leave the premises. The neighborhood has changed. It's so gentrified, prices are inflated beyond what almost anyone can afford. And San Francisco, itself, is broken, rampant with drug addicts, beggars, and homeless.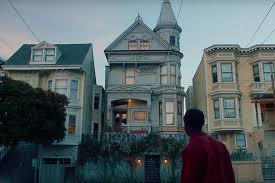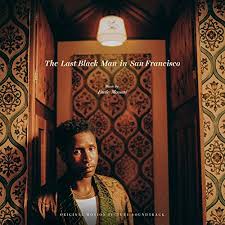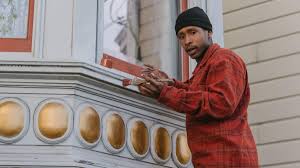 Where Jimmie works with his hands, Mont creates words.  He's a writer, playwright and poet, keeping a notebook as he works on a play that ultimately will tell their story. Jimmie Fails and Johnathan Majors could very well be making a bit of history in their portrayal of friendship. Their connection and devotion to each other is every bit as deep as the one Matt Damon and Ben Affleck showed Good Will Hunting. 
Fails's face is a map of longing, sadness and despair. He wants this house so bad, he'll do anything to save it, have it or just be able to take care of it. It means that much to him. You can see the wheels in his mind running overtime trying to figure out how to get it. Fails uses his skateboard for transportation back and forth from the house to his neighborhood which was where blue collars workers used to toil in the ship building yards by the bay. The house is his anchor. It's his reason to be. 
Another emotional anchor is Jimmie's almost blind Grandpa Allen, played with quiet grace by Danny Glover. Jimmie lives in Grandpa's house and shares his tiny bedroom with Mont, who sleeps on the floor next to Jimmie's cramped twin bed. It's all they have and Grandpa urges them to hold on to each other. 
These best friends just want to give the magnificent house the love it deserves. It is an architectural treasure, warm with original wood and a spectacular working organ. The detail in the parquet and wood trim on the ceiling is exquisite. But here are these two Black men trying to figure out a way to live in this masterpiece so they can keep the memories alive and the house from being put in the hands of strangers. 
Family members they visit to try to get their help include Wanda Fails (Tichina Arnold) who's still storing Jimmie's grandfather's furniture, and Jimmie's father (Rob Morgan) who is sadistically, cruelly realistic about the city. They give them a sense of history along with a dose of reality. The city and its communities have changed. That's also evident in the neighborhood where Jimmie's friend, Mont, sees friends hanging out on the street, maybe looking for trouble.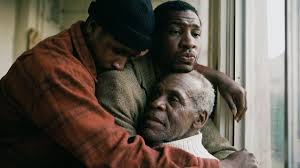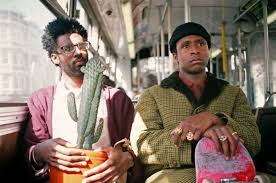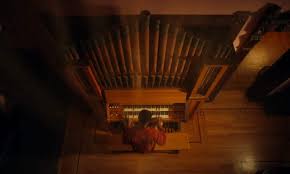 San Francisco has changed from city that welcomed all, to the ultra expensive, exclusive, city that casts out those that can no longer afford to live there. The Japanese who once lived in that neighborhood were cast out during the World War II. Blacks moved in, but then gentrification brought the wealthy young techies and upper class millennials who could afford to buy a home and restore or change it. Scenes with the smarmy real estate agent (Finn Wittrock) professing sympathy for poor, disadvantaged Black men while clearing them out of the city is today's San Francisco reality. 
Much of the film is pointed directly at Fail's face as he's looking at the home portraying to figure out his next step trying to get it back. His eyes are so fixed and forlorn. He does a great job drawing you into his situation as he goes to talk with family members about the house, finding out how futile his cause may be. Will Fails fail? 
This film is a powerful reminder of what can happen to cities and the people in them if we don't take care of them. Urban removal has lost much of the charm in many cities. We've seen the deterioration in San Francisco, Chicago, New York and other great cities ourselves. You feel for these young men trying to go back to a better time and reclaim what should have been. In this gritty, but picturesque, dramatic fantasy, Jimmie reminds those who complain and whine about life in our troubled metropolis' saying "You can't hate a place unless you love it first." 
A24        121 minutes        R
from Movies and Shakers http://bit.ly/2ITYJH4