He's baa-ack. Samuel L. Jackson seems to have more fun than any actor should playing Shaft again. There is plenty of action and a high body count, but some rock solid urban comedy as well.  And you get the benefit of not one, but 3 generations of Shafts. 
Director Tim Story (Ride Along, Think Like a Man, Kevin Hart Documentaries) opens this one with flashbacks from the films released in 1992-94-97 and 2007, all to that familiar Shaft theme written by Isaac Hayes. The original film is also considered a cultural landmark for Black filmmaking and a lynchpin in the Blaxploitation film movement. Hayes was the first African American to win an Academy Award for Best Original song in 1971.) 
First, we meet John Shaft Junior (Jessie T.Usher – The Boys and Survivor's Remorse TV series, Independence Day: Resurgence).Yep, Jackson's Shaft has a son who was raised by his mother, Maya (Regina Hall-Girls Trip, The Hate U Give). She made sure to keep sonny boy away from her ex to keep him safe and not be tarnished by the shady and dangerous family detective business based in Harlem. Junior graduated with a cyber security degree from MIT and works as a data analyst for the FBI. The only contact he's had are inappropriate presents Daddy sent on his birthdays which included everything from weapons to Super Bowl bling to Trojans and we don't mean horses. Hall plays a real firecracker who explodes at the mere mention of her ex. He loves to get her fired up. But she knows how to get back at him with clever biting comebacks said with fire in her eyes.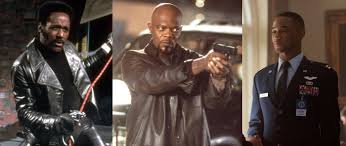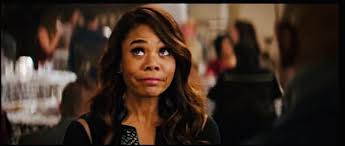 When Junior's best friend and recovering drug addict, Kareem (Avan Jogia), dies of an overdose, Junior smells something fishy. He wants his FBI boss, played by a sneering Titus Welliver, to let him in on the case. The FBI, however, is portrayed as not only racially bigoted, but also towards young Shaft's intelligence and age. 
Junior decides to take matters into his own hands until he gets in trouble. Time to run to Daddy who not only takes him under his wing, but he gets him into even more trouble. They're trying to track down long-time nemesis  Gordito, a drug lord who may have orchestrated Kareem's death.
The fun comes with the clash of cultures between father and son. Harlem is a character in itself with both good and bad people, but certainly not what Junior is used to navigating. Jackson smiles often at his son's reaction to his constant cursing and liberal use of violence. Writer Kenya Barris had no problem putting Jackson's favorite word, "motherf***er" in the film no less that 40 times. Jackson started using the word to help him stop stuttering as a kid. He still uses it for the same purpose. It's become part of his DNA making no apology for it. In fact, Barris says his fans expect it! 
But the names and references Shaft uses on Junior in the film get laughs too. He's likened to an Apple Store Genius, a Starbucks Barista, a millennial, and even CNN's Don Lemon, which got lots of laughs. And it's funny when Jackson spits out coconut water at his son's pristine place. The script honors the history of the franchise by popping in the familiar phrases the audience should have fun mouthing along with the characters. "He's a bad Mother…Shut Your Mouth!" 
 And when weapons get pulled out, and put in the hands, the "no guns" son refuses…at first. Junior quickly shows real skills with his trigger finger. Must be in the genes. It's the "like father, like son" moment.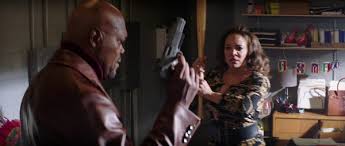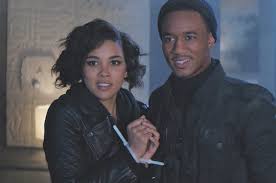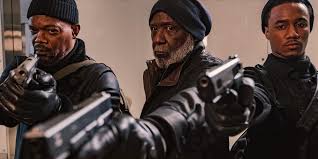 Junior's supportive female friend and another strong woman is the gorgeous doctor Sasha (Alexandra Shipp- Dark Phoenix, X-Men Apocalypse, Love Simon). She's there for Junior to help find out what happened to Kareem and, in the process, gets to see Shaft and Maya in action. Their situations create even more comedy with Sasha trying to figure out who's who and how she got involved with this messy family.
On top of that, Jackson's Shaft decides to take Junior to get more fire power from his Grandfather, the original Shaft,  Richard Roundtree who looks great! Roundtree has fun with it, too, and gets in on the act. We've been Shafted times 3! 
Of course it gets violent, what do you expect? Everybody joins in to rout out the bad guys and their Hispanic henchwoman, Bennie (Luna Laurn Velez) who tips off Gordito. To hit Shaft where it hurts most, he takes Sasha hostage. Body count continues to climb and the quick quips between fathers and sons keep coming. 
The filmmakers played it very smart with this one. Not only is it packed with action and lots of laughs, it casts a wide net to three generations. And the women are strong. There's something for every age here and it works. The first Shaft films were by Blacks for Blacks, but the Blaxploitation theme has been transformed into this buddy-comedy that weirdly celebrates family. Usher is good as Junior. Richard Roundtree looks better than he did in 1971. And Jackson has way too much fun.
Warner Bros./New Line Cinema                   111 Minutes                        R
from Movies and Shakers http://bit.ly/2WKQZBj