This film is a crowning achievement for the Toy Story franchise. When you see this one, you won't want it to end. Beloved Woody (Tom Hanks) and Buzz Lightyear (Tim Allen), with their old buds and new characters, are so well crafted, technologically and emotionally, you'll forget you're watching computer generated toys.  
This may be Woody's last rodeo, but, once again, he's the hero with heart. Tom Hanks has a lot of talkin' to do as Woody and surprised himself in the studio that he could still sound like the high pitched teen he first introduced in 1995. This may be Buzz's last mission, too. Tim Allen brings his space hero persona to life again which will bring good memories for parents bringing kids to see this film. Both Hanks and Allen admit they got choked up in the studio recording lines for this one, 24 years after the first Toy Story. You may too. 
Pixar says it has to start and end with the story and this is no exception. This one is heartfelt and the screenplay is well-written, predominantly by Andrew Stanton and Rashida Jones, but 8 additional writers collaborated on the well-paced script. The action scenes are imaginative and fun with some appropriately scary, but nothing kids can't handle.
The messages in this Disney/Pixar film include loyalty to your friends and family, be true to yourself, and listen to your inner voices. You don't get beat over the head with them. They're just shown sincerely and positively through the actions and relationships of the characters. 
This is Director Josh Cooley's first full-length feature. He's worked his way up through Pixar working on The Incredibles, Ratatouille, Up, and Inside Out. The film flows and the characters are so fully developed that you can easily recognize them by personality, as well as their appearance.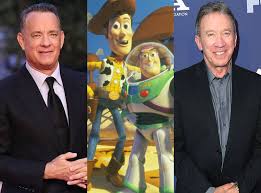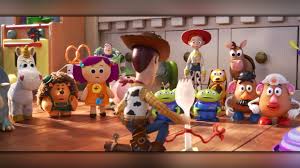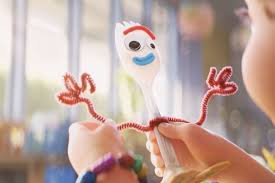 Pixar does a great job with opening sequences. Randy Newman's song, "You've Got a Friend in Me" starts it off. There are only 3 songs in this film with no new one to go out singing. But the score is perfect for the touching scenes as well as the action. Before opening credits, you get a history of these toys showing each kid who loved them the first three Toy Story films. That sets the stage for this film. The toys have been passed on to a new kid to love. 
Some have become aged and outdated, like the ceramic Bo Peep lamp and her sheep which are being tossed. Annie Potts is back as the voice of the strong and independent Bo Peep who still has a warm spot for Woody. 
Little Bonnie reluctantly goes to a Kindergarten orientation. Woody sneaks into her backpack to make sure she's ok at school and when he sees her get upset, he helps her create a new bestie out of trash. 
Welcome Forky who is actually a spork, hilariously voiced by Tony Hale. He is a funny tragic character made out of a plastic spork, pipe cleaners, google mis-matched eyes and stick feet. Forky keeps trying to jump into any trash can because that's where he came from and that's his self-identity. Bonnie absolutely loves Forky because she made him, and the rest of the film is Woody showing loyalty to Bonnie by continually getting Forky out of the trash to keep them together. 
Adventures ensue when Bonnie's parents take her on a road trip in an RV with the rest of her toy gang. When they reach the RV park, there's a carnival and an antique store in the town where Woody sees Bo Peep's lamp, without Bo Peep. Keep your eyes on the detail in the Antique store for an homage to objects and characters from past Disney and Pixar films that have ended up there. Very nostalgic.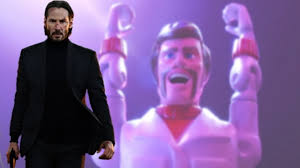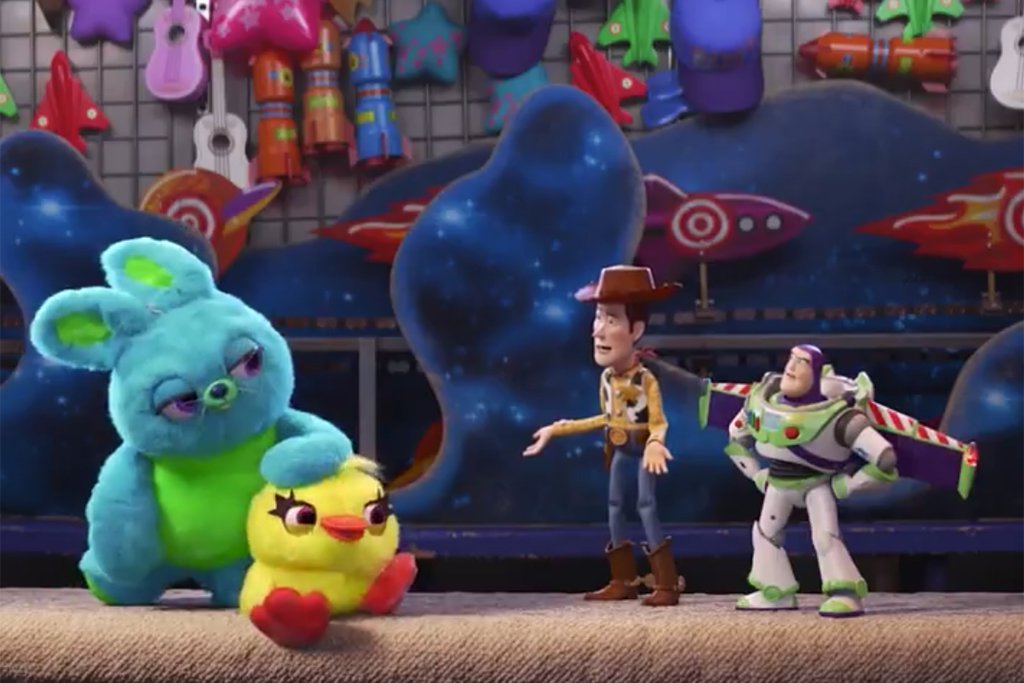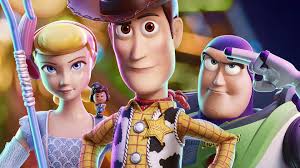 The conflict comes with Gabby Gabby, an old doll with red hair, old school green eyes with long lashes, but one defect. Gabby has henchmen that look like cleaned up, formally dressed Chuckie dolls. They go after Woody, who is trying to find Forky, and everybody gets into the act, including the tough guy stuffed animal carnival prizes voiced by Keegan Michael Kee and Jordan Peele. They provide a lot of silly but good comedy. And the filmmakers pay tribute to the late comedian Don Rickles, as the voice of Mr, Potato Head.
But look out for Duke Caboom (love the name.) Keanu Reeves, in his first Disney film, voices one of the funniest toys with a running gag in this film. He's an over-exuberant Canadian motor-cycle-riding daredevil and a cocky Canuck of a toy. He, too, who was tossed aside by his kid, disappointed Duke didn't perform at home like he did on a classic TV toy commercial. Duke Caboom becomes just what Woody, Buzz, and Bo Peep need to save the day. Reeves' voice acting is perfect for his outrageous animated acrobatic character. You'll have to laugh. Between John Wick Chapter 3-Parabellum and Always Be My Maybe, Reeves is having quite a year. 
This Disney/Pixar movie covers all the bases, even through to the end of the credits. It's got great storytelling presented with exceptionally detailed and vivid animation. These filmmakers show that there can be action, comedy, drama and even tension without being too scary for kids. Woody, Buzz, Bo Peep and their buddies are characters we all grew up with at some point. The new characters are just as fun. They all show true emotion so well, that will tug at your heart and even draw a tear. Best of all this film presents kids with good messages about friendship, family, self identity, and that heroes can be created out of trash.
Walt Disney Studios Motion Pictures    100 minutes    G 
from Movies and Shakers http://bit.ly/2RhW123