Notable and notorious IndieWire film critic David Ehrlich recently put out a social media call for film critic peers to join a weekly survey to discuss movie topics, answer questions, and highlight their work. Representing Every Movie Has a Lesson, I, along with over 60 other emerging and established film critics including some of my fellow Chicago Independent Film Critics Circle members and Aaron White of Feelin' Film, accepted the invitation to participate. I'm honored by the opportunity, and I hope my responses are chosen each week.
---
THIS WEEK'S QUESTION: What is the best movie ever about TV?
This week's pick for me was an instant no-brainer. Sidney Lumet's masterpiece satire has evolved from being a sarcastic time capsule to a modern-day cautionary tale we're nearly living. I do have to love these other picks included this week and I most especially need to clear out that blind spot for Broadcast News. Summer break can't get her soon enough.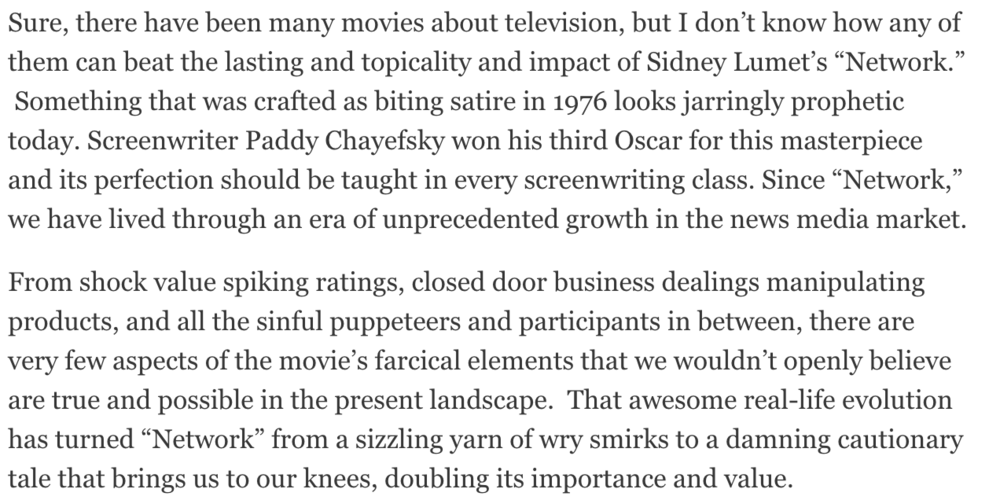 THE FULL INDIEWIRE ARTICLE THIS WEEK
LOGO DESIGNED BY MEENTS ILLUSTRATED
from REVIEW BLOG – Every Movie Has a Lesson http://bit.ly/31rJXQA
via IFTTT