(Image: popsugar.com)
For an occasional new segment, Every Movie Has a Lesson will cover upcoming home media releases combining an "overdue" or "rewind" film review, complete with life lessons, and an unboxed look at special features.
---
CAPTAIN MARVEL
Arriving on home media this week from Disney is their glowing smash hit Captain Marvel starring Academy Award winner Brie Larson and directed by Anna Boden and Ryan Fleck. The film itself is a forthright winner for introducing this powerful and important new character and the disc release gives us a little peek as to how it all came to be. Keep an eye out on store shelves Tuesday, June 11th to pick up your copy in 4K, Blu-ray, or both. Here's a quick advance look at what the home edition has to offer, just as long as you can wait through a quick period-accurate Windows 95 loading screening (nice touch).
LATE HOMEWORK EXCUSE:
None! I was on the front line seeing this Marvel Cinematic Universe tentpole in advance, and I'll re-spin little excerpts from my full review as we go.
ANTICIPATORY SET AND PRIOR KNOWLEDGE:
Captain Marvel's yellow starburst icon represents the paged calvary called by Samuel L. Jackson's Nick Fury with his dying, dusty near-profanity demise during the end credits of Avengers: Infinity War. Turning back the clock to 1995, this movie showers the period-era stylings to introduce the path-forging collaboration between the future Director of S.H.I.E.L.D. and the mighty ally (Larson) that changes his worldview and instigates the need for future initiatives.
The heroine we meet is "Vers," a Starforce operative on the Kree home planet of Hala. She is trained by Yon-Rogg (a spry Jude Law) and engaged in the ongoing war between the Kree and their shape-shifting Skrull rivals. Off the battlefields, Vers is troubled by recurring dreams of a destructive scene where she cannot save an unknown woman from a Skrull assassin. The embodiment of that mysterious figure (Annette Bening) becomes the personalized physical form taken by the Kree's Supreme Intelligence collective.
When a spy retrieval mission turns into a pursuit, Vers gets abducted and separated from Yon-Rogg's team by a detail of Skrulls. Their leader Talas, played by professional movie villain Ben Mendelsohn, tries tapping into Vers' scrambled memories for information. The Skrull probe uncovers vivid details of an Earthly history, not a Kree one. She was once Carol Danvers, a skilled Air Force pilot under the command and tutelage of Dr. Wendy Lawson (the true Bening) and the inseparable best friend of fellow ace Maria Rambeau (Lashana Lynch). Carol's extraterrestrial escape to Earth draws the intervention of S.H.I.E.L.D. From there, the shifts and turns of revealed truths change directions and allegiances for nearly all involved. Oh, and there's a cat named Goose. You'll see.
MY TAKE:
As a filmgoer, follow Larson's lead and ignore that limiting advisement of emotional control entirely. There is excitement and euphoria to be had by witnessing and enjoying the wonders made possible by this soaring female protagonist. Let loose, as she does, and relish in the unbridled power the burns with fantastic feminine wiles. Upon a rewatch, the importance and excitement of this film has not been diluted one bit by the grand finale of Avengers: Infinity War which moved Captain Marvel back forward to the present.
Brimming with wit and nerve, much of Captain Marvel is refreshingly divergent from the usual and overused "reluctant hero" origin story that has beset many Marvel and DC heroes alike. Brie Larson's Carol Danvers is a character gilded with confidence over angst. It is a self-assurance that only gets bolder and braver as more of her fibers take form. Where most comic book films deflate into incoherent maelstroms during their third acts, this one just keeps on rising. Backed by a triumphant score from female composer Pinar Toprak, the energetic vibe and conquering glow increases as the spacefaring stakes gets higher.
These are traits that should not be as a surprise coming from Oscar winner Brie Larson. This is what you get when you hire a proven actor and not just a pretty face. Spanning Room, Short Term 12, The Glass Castle, and more, she has proven a level of palpable poise greater than most of her acting peers for the better part of a decade. That poise and spirit occupies a new stage now. Proud and resolute every step of the way, Larson becomes deservedly altruistic. For goodness sake, as a woman of action and conviction, there are times Captain Marvel makes Wonder Woman look like a stiff fashion model. The only agenda here is destroying weak uncertainty, an empowering and welcome direction of change for comic book films lately if there ever was one.
4 STARS
EXTRA CREDIT: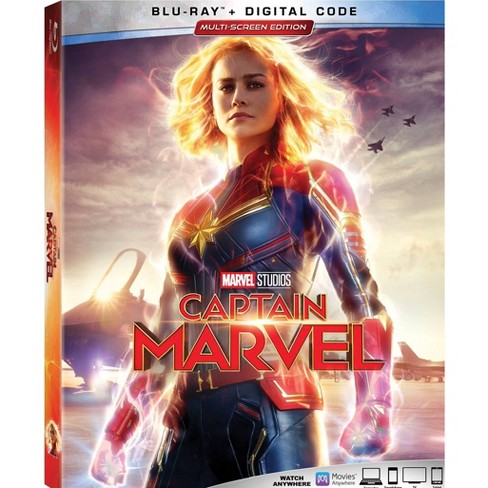 (Image: target.com)
The home media edition of Captain Marvel gives appetizer and aperitif courses of insight into the film and its production. The real meat-and-potatoes of that comes from the directors' commentary from Anna Boden and Ryan Fleck. It doesn't take long to hear and feel their cohesive teamwork and unified vision of things. Their ease and enthusiasm becomes our own as stories are shared of their big step up into blockbuster filmmaking after fare like Half Nelson, It's Kind of a Funny Story, and Mississippi Grind. Their appreciation for both the character and the opportunity really come through with little nuggets to smile about everywhere. In the extra features, nothing is too expansive per se, but all is very company-polished, just as one would expect from a Disney release, especially when the five "Sneak Peeks" are all for downloadable Marvel-themed games and apps.
Six deleted scenes are included that run for about nine minutes that are mostly little shaves of entry or exit from scenes that exist in the movie. None of them are true tangents of uncharted directions and most are Kree time with Jude Law and his helpful exposition in the first third of the movie. If there's one shortened scene that should have stayed in the finished film, it's the extended take of "What, No Smile?," Carol's encounter with the hotshot motorcycling pick-up artist played by Robert Kazinsky. Seeing how Carol dealt with him more forcefully with a smirk of dominating glee would have elicited theater cheers of satisfaction. After the deleted scenes, there is a two-minute gag reel of easy little giggles that still need more cat, both fake and real, for even more laughs,
(Image: target.com)
The Captain Marvel disc hosts six featurettes led by "Becoming a Superhero" which guides a very quick and casual six-minute-plus timeline from concept to production start. From casting Brie Larson and bringing Boden and Fleck on board around Comic-Con 2016, there is insight shared into making sure this female leader received the right treatment and mettle, right down to the fighter pilot training received by Larson. The other five featurettes are all shorter than four minutes, making them digestible for YouTube more than noteworthy for disc permanence and revisitation.
The next three after "Becoming a Superhero" get a little repetitive on the superlatives and pull quote compliments from people like MCU czar Kevin Feige. Voracious cinephiles looking for Peter Jackson-level production journals will be displeased, but that's never been Disney's giving spirit. They favor, as aforementioned, the company polish that is quick and harmless. The final one, "Hiss-Sterical Cat-Titude," is, far and away, the most creative of the short videos. Streaked with intentionally poorer resolution and cropped to look like its mid-90s era, this one is all about the scene-stealing Flerken "Goose" and his effect on the filming and cast. That's the kind of adorable nugget you want more of on a keeper disc. There are, unfortunately, not enough of those to make this edition a must-buy other than for commentary fans and true Captain Marvel diehards.
LOGO DESIGNED BY MEENTS ILLUSTRATED (#790)
from REVIEW BLOG – Every Movie Has a Lesson http://bit.ly/2I7aVFC
via IFTTT