Luciano Pavarotti was bigger than life! Director Ron Howard packs this film with intimate photos and performances depicting how his charismatic personality and magnificent voice dazzled everyone. Whether you like opera or not, this film is an interesting study of how Pavarotti became a super star. Howard uses videos of Pavarotti singing on stage that are so close and personal, you can literally count the opera star's teeth and practically see the notes flow out of his mouth. The film shows how Pavarotti's life and his performances were filled with personality and an abundance of emotion.
Howard covers Pavarotti's life from childhood in Modena, Italy to the grand Opera houses of the world, to huge arenas performing alongside rock stars. He was inspired to sing by his father, a baker, who was a tenor himself. Pavarotti says his father was a better singer than he. Hard to believe. They sang in church and won competitions in choirs together. His mother, a teacher, encouraged Luciano to be an elementary teacher. But knowing he wanted to sing, his parents let him follow his passion.
Howard follows the development of his singing career step by step. His first big success was filling in for a sick tenor in La Bohème in Paris and the rest is history. There are scenes of him singing in myriad operas and being interviewed on talk shows about how he got started, as well as how he learned his craft. In a very cute scene showing him on stage with the great Joan Sutherland, Pavarotti admits how she taught him to breathe using a technique he borrowed after seeing the power her way of attacking a note could produce. They began a popular vocal partnership that lasted many years. And Pavarotti's popularity grew. He had a special friendship with Lady Diana and the scenes of him singing to her at an outdoor concert in the rain shows it and how popular he was. When they stop the concert to ask everyone to put the umbrellas down so all can see him perform, they do. Even Charles and Diana stay, enjoying Pavarotti singing in the rain.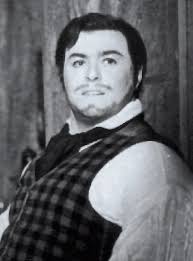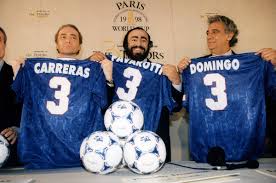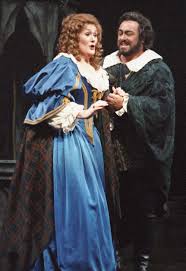 There are interviews with conductors and musicians including Zubin Mehta who was in awe of Pararotti's remarkable talent. Luciano was called the King of High C's for his ability to hit 9 in the aria 'Quel destin' in Donizetti's 'La Fille du Regiment' (The Daughter of the Regiment) which is nearly impossible to do, let alone do it so well.
Pavarotti was a popular opera star, but became even more so when he did a concert to kick off the World Cup in 1990 with two of the other formidable tenors of the day, fellow opera singers, Placido Domingo and José Carreras. That turned into a concert tour called The Three Tenors. Seeing them have fun chiding each other on stage in this film is very entertaining. 
Howard also shows that when a man with such specialized talent becomes successful, often his family is left behind. He shows photos of Pavarotti's courtship and marriage to Adua Veroni. He seemed devoted to her and adored their 3 daughters, but he was always away. His wife knew there could be dalliances and the director details one serious relationship he had with his assistant on the road. The interviews with all of the women in Pavarotti's life are emotional and revealing, telling more about the man off stage. They include interviews with his 2nd wife,  who was decades his junior. He got a divorce, they got married had twins, a boy and a girl, but the son died in childbirth. There is sweet footage of him having fun playing with his young daughter while, at the same time, he was becoming a grandfather.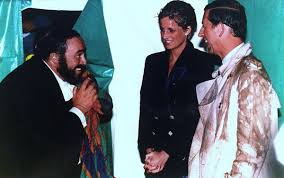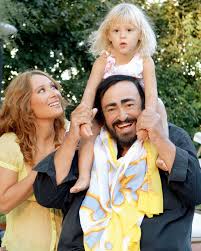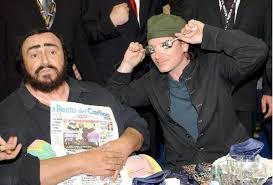 Pavarotti shifted from opera, becoming a true rock star singing with real rock stars in his famously successful charity concerts. Hearing how that started and grew into a rock phenomenon is nothing short of amazing. Seeing him perform alongside Sting, Celine Dion, Bono and more pop entertainers shows how much he loved to collaborate with talented people singing any kind of music. He even recorded with Madonna and Elton John. He could do it all. 
This film covers the life, loves and career of a man with the gift of his magnificent voice, but of love for people. He was compassionate and set up a foundation to help young singers, plus children's charities. What is not covered in the film are financial difficulties regarding taxes in Italy and health problems causing cancellations that created trouble with venues. He also appeared in one feature film called Giorgio, that was a flop. But Howard is obviously in awe of this timeless talent. The director makes this film a tribute to Pavarotti's big personality and an opportunity to hear that voice hit all the right notes again.
CBS Films       1 hour 54 minutes        PG-13
from Movies and Shakers http://bit.ly/2KwiVkP