Mindy Kaling speaks truth to power writing a script for herself playing a woman who gets her big shot to work on her favorite show as a comedy writer. One problem. It's a boy's world and she's a woman of color. The film becomes an uphill battle to prove to herself and the boys that she belongs there. 
EmmaThompson is spot on as Katherine Newbury, the fast talking, brow beating, Streep's Devil Wears Prada, super successful and imperious boss who doesn't see the forest through the trees. She been ensconced so long as the reigning queen of late night talk TV that she's taken the role for granted. She's outdated, relying on her stable of boy writers to put the right words in her mouth. But they've become as complacent as she is. It's a paycheck. 
Nisha Ganatra (TVs Brooklyn Nine-Nine, Fresh Off the Boat) directs Kaling's script. This is Ganatra's first feature film. It feels more like episodes of a TV series rather than a script that flows. Kaling and Thompson wear fabulous clothes and the boys look as disheveled as those we worked with in television ourselves. The contrast looks very real.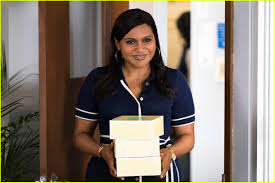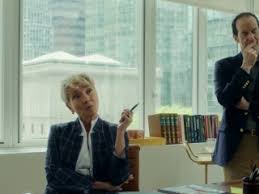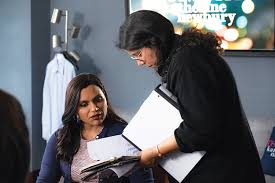 Kaling as Molly, is a quality control worker in a chemical plant who dreams of working with her idol, Newbury. She wins an essay contest. The prize is really contrived in this script to get her to Newbury. It's to get an interview for a job within the conglomerate that owns Newbury's TV station. Against all odds, and beyond her lack of experience, she gets the gig. 
The trials and tribulations in this film of a young woman working in a male dominated, non-diverse environment make for some awkwardly funny situations. She does things very differently from organizing her side of a shared office, to using the Women's Room which the boy had appropriated for themselves. 
There are fun moments during Molly's adjusting to the boys and them adjusting to her. But they get better with authoritative Katherine in the mix, especially when the host is told by her boss (played perfectly strident by Amy Ryan) that she'll be replaced in a year. That sets everybody in motion. Katherine demands that her writers step up to make her look good. Molly wants to be the superhero that can make it happen. 
Ike Barinholz plays Daniel Tennant, the young, brash, stand up comedian waiting in the wings who is everything that Katherine hates about what show business is becoming. He plays gross, obnoxious and a terrible human being so well.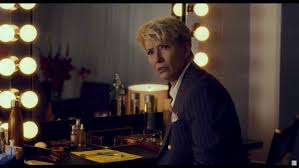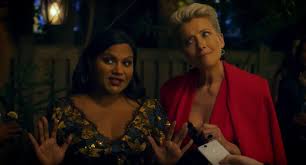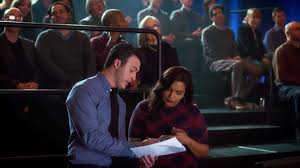 Meanwhile, Molly also has to deal with the boy writer hitting on her. This, too, seems a little contrived, as does how Molly handles it. Will there be romance? Kaling plays Molly as savvy and naive at the same time. That's pretty realistic but uncomfortable to watch in this situation. 
John Lithgow is almost in this film. As Katherine's husband, Walter, they have a few scenes together where he dispenses his wisdom and then, unfortunately, fades into the background. 
We hope this is a film that has an effect and that diversity won't be an issue for long. If this movie succeeds, it will feel dated very soon, which would be a good thing. This is a good but not great movie that makes a necessary statement about the lack of diversity and need for more women in corporations as well as in entertainment. There were some cute and funny moments but we wish there had been more jokes, especially in a film about comedy. 
from Movies and Shakers http://bit.ly/2QVZPpI