Octavia Spencer is scary with a sweet smile, taking revenge in this thriller playing a teen enabler. She is almost too good for this film but looks like she relished playing Ma creating havoc for the teens she lets party at her house.
Tate Taylor (The Help, Get On Up) directs this weird horror film. New girl in town, Maggie, (Diana Silvers, Booksmart, Glass) is befriended by Haley (McKaley Miller), Andy (Corey Fogelmanis) Chaz (Gianni Paolo), and Darrell (Dante Brown). Maggie's buddies test her loyalty by getting her to ask an adult to buy liquor for her so they can party. Ma reluctantly gives in but finds this could be a way to make up for some old teen memories of her own. The kids think they've found the motherlode of party heaven when she eventually invites them to carry on in her basement. 
Sue Ann, renamed Ma by her teen fan club, sets rules which lead to questions about her and her consistently ill teen daughter Genie ( Tanyell Waivers). Ma keeps Genie, who rarely comes to school, isolated on the top floor which, along with everything but the basement, is off limits. 
Taylor and writer Scotty Landis try to make the dialogue teen true, but it gets kind of lame. Cell phones and posts are used, but not well. Slowly, clues are revealed about how Ma knows people in town, including Maggie's mother, Erica. Juliette Lewis is the frantic single Mom who had to move back to town and is trying to protect her daughter from everything.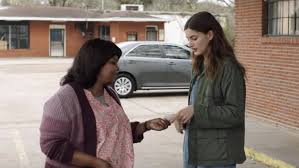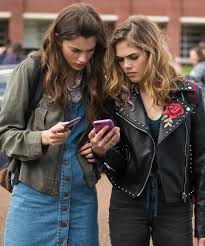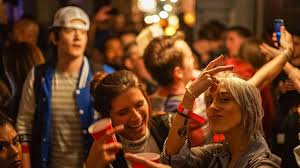 Ben (Luke Evans) smells a rat, too, and talks to Ma about his son going to her house for parties. And his girlfriend, Mercedes (Missi Pyle) is a trip as a loose cannon who gets a surprise ride of her own from Ma. There's history there and you come to find out that they all went to school with Sue Ann. The plot thickens and sickens. 
Director Taylor eases the tension periodically with surprise appearances from Allison Janney playing Dr. Brooks, the vet Sue Ann works for. She is hilarious as the only person who seems to be able to order Sue Ann around. Her double takes after reprimanding Sue Ann bring good laughs. Spencer plays Ma being sneaky well as she finds ways to get around the rules of her boss.
She's also more than adept at manipulating the teens even when they start suspecting something. Tight shots on Spencer's face as she's calculating her next move show her eyes focused and mind working overtime. She is frightening. 
Ma has her own issues she's dealing with, including, but even more so, her sister. They give some credence to Ma's paranoia. When her sister shows up at school and goes ballistic, everyone sees much more than you want. This disturbing school incident goes on for a long time. You begin to wonder if anyone will try to step up to stop where this is heading. Director Taylor cast himself as law enforcement and he appears in a couple of key scenes. Looks like he relished being in this one, too!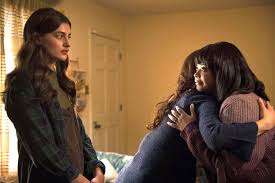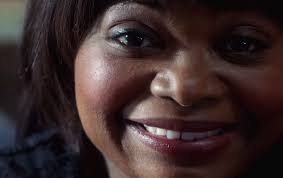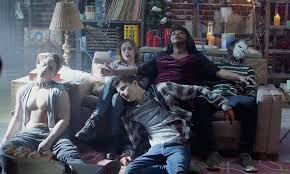 Race definitely plays a part as there are few African American's at this predominantly White school. Darrell's racist treatment by Ma gets a big reaction, as it should. And the name Ma is thought to come from the old racist term "Mammy." Ma's actions get bloody ugly and Taylor keeps you guessing all the way whether anyone can come to the rescue or if there will be complete destruction.
This is not a great film, but Spencer is worth watching in an unexpected turn. Her reactions to Ma's revenge filled successes and failures keep you guessing and squirming in your seats. If this film is supposed to be sexy, it's not, even though there is nudity and it deals with teen sex. Unfortunately, It becomes uncomfortably gruesome. And If you have teens at home? Seeing this film will make you question everyone they meet and everything they do, especially at parties. 
from Movies and Shakers http://bit.ly/2WcXQDf