Egerton unexpectedly takes off singing and dancing as Rocketman Elton John in a biographical musical fantasy of his childhood to stardom in the 1970's and 80's. The story is definitely embellished and contains graphic sexual scenes, but even Elton calls it a "truthful" telling of his ups and downs dealing with his sexuality, fame and addictions, but most of all, his quest to be loved.  
The film does get a little repetitive with the artist's drugs and alcohol in between the stellar rock performances. But that kind of behavior is part of his story and common with relapses, especially in the entertainment business. It does weigh down the film in the middle, but there is a lot of colorful entertainment throughout that more than makes up for it. Just hang in there.
Director Dexter Fletcher creates a musical that is somewhat a cross between La La Land, A Star is Born and Bohemian Rhapsody (the last of which he stepped in to direct when Brian Singer was fired from the project.) 
The singing, dancing, concert scenes, and costumes make for a hugely, colorful, musical production. Plus you see the best of Elton John's music in performance right before your eyes. From Saturday Night's Alright, Tiny Dancer, Benny and the Jets,  Pin Ball Wizard, to Crocodile Rock, I'm Still Standing and Don't Go Breaking My Heart and more. 
Egerton can sing! He sings more than 20 songs (one with Elton John) and tried to please his idol who thought the actor was best with ballads. (He was sorry they didn't include Someone Saved My Life Tonight) He worked to pull off the rock songs with enough grit to please the real Rocketman. And Egerton can also dance. He's a natural. Choreography by Adam Murray (Ready Player One) of the big production numbers is pretty spectacular, with Egerton right there in front.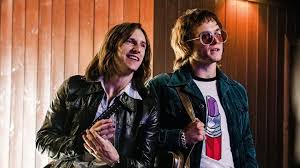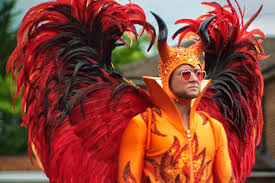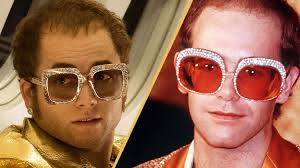 The film starts with little Reginald Dwight and the cold, hard treatment by his parents (Bryce Howard Dallas and Steven MacKintosh) who could have cared less that he was there. Thank goodness for his grandmother (Gemma Jones) or we might have been robbed of his music. He gets classically trained and then gets bit by the rock bug hearing an Elvis record brought by his Mom's new boyfriend after his Dad deserted. He plays with a soul band and around town getting music and life experience along the way. 
John tries to market his own music with an agent who hands him an envelope of lyrics written by a guy named Bernie Taupin (Jamie Bell) and the rest is history. He and John have been writing songs together for 30 years. John's growing friendship with Taupin is interesting, but we would have liked to know more about Taupin. Bell does a great job with the character, but we think he should have been given more attention, instead of just being there for John and being a yes man with the music. They never fought and now we see why, but still would have liked to have seen more depth to his character. 
John's first real manager (Richard Madden) puts him in the spotlight with all the trimmings. But he is also the man who tests his sexuality. Their nude sex scene was almost cut from the film for being just too much. Madden says it was important because it was a turning point in his John's life. And John has been open about the fact that his past was laced with sex, drugs and alcohol. His life during this time was R rated. There may be more of those scenes than necessary to drive the point home. John loved that writer Lee Hall (Billy Elliott) came up with a script combining fantasy along with that honesty. Both he and director Fletcher wanted it to be no holds barred and it is.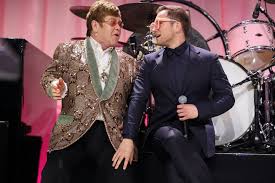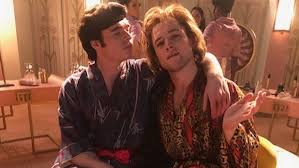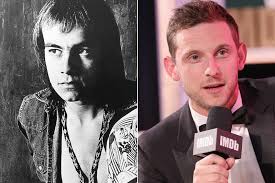 The costumes and fashionista shoes and eyeglasses are all part of the fun John created for his wild persona. They were his smoke and mirrors that became a trademark. They are garish and amusing, but also, sad in a way, because they covered up his real heartache. Even as an adult, he was taken advantage of and treated coldly by his mother and father. The scenes of John in costume telling his side of the story and losing control are so revealing and well played by Egerton. Flashbacks of him as a child (9-year-old Matthew Illesley) add to the story without getting in the way, 
The scene of John's attempted suicide in the swimming pool during a party are particularly well shot and directed by Fletcher and cinematographer George Richmond (Tomb Raider, Kingsman movies). Young Reggie at the bottom of the pool playing a piano while John floats down with swimmers finally coming down around him creates a fantasy image in a stupor. It's frightening, even though we know John lived. 
For anyone who may not be totally familiar with Elton John and Bernie Taupin's songbook, this movie reminds us of the amazing body of work these collaborators have created. Even more astounding is that this movie ends in the early 1990's. Elton John is only now starting to slow down his touring and performance career. While Elton John's life may not have always been a fantasy, Taron Egerton has humanized and lionized him at the same time.  Rocketman takes Egerton's star to new heights.
Paramount Pictures       2 hours 1 minute R
from Movies and Shakers http://bit.ly/30VUh2T