Despite colorful costumes, great music and big production numbers, this film is not well-crafted, lacking the magic and emotion of Disney's original animated feature. Once again, Disney tried to make a movie that's all things for all people.  It's billed as an adventure, comedy, family, fantasy, romance, musical film but doesn't succeed in all of those realms. It's bright and glitzy which makes it a little too cheesy. If you keep score of the number of missing parents in Disney films, Aladdin is an orphan and the Princess is raised by a single Dad. 
Will Smith is better than we expected as the heavily computer generated genie. He doesn't take himself too seriously or try to emulate the iconic character Robin Williams created. It's his first time doing a live-action from for Disney. Smith wanted to bring a hip hop vibe to the Disney world by referencing his 1990's roles in The Fresh Prince of Bel-Air or as Agent J in Men in Black. Director Guy Ritchie chose Smith because he wanted him to be as good as, but not the same character as Williams. 
Guy Ritchie is known for portraying street smart characters, like the street rat Aladdin, even though some of his previous action films (King Arthur: Legend of the Sword, and The Man from U.N.C.L.E) were not artistic successes. But he's got 5 kids and wanted to do this a film for them. 
Set in a mythical Middle East sultanate, Agrabah, Aladdin is a a preppy looking street-urchin/thief. He comes upon the disguised Princess Jasmine who has snuck out of the palace to see real people since her father, the Sultan forbids her to leave the cloistered walls. It's infuriating to watch the ensuing chase scene through the city as Ritchie speeds up the parkour stunts. instead of making them look exciting, they look forced. He does this again over editing the big dance number so you can't enjoy or get a sense of the choreography. It's a sign that he has little ability to direct this kind of entertainment.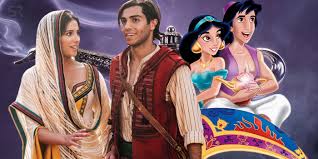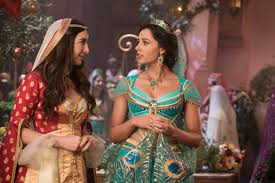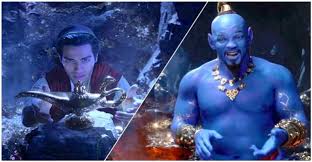 Credit is due for picking a diverse cast of actors. Gorgeous Anglo-Indian actress Naomi Scott is Jasmine, Egyptian-Canadian actor Mena Massoud is the spunky street thief Aladdin, Dutch Tunisian Marwan Kenzari is the nasty Jafar, Iranian-American actors, Navid Nergahban and SNL alum Nasim Pedrad are the Sultan and handmaiden Dalia respectively. 
We never caught much chemistry between Aladdin and Jasmine and their singing is not as inspiring as we hoped. Neither has a distinctive singing voice on a par with Elsa (Idina Menzel) in Frozen or Gaston (Richard White) in Beauty and the Beast. 
The central love story between Aladdin and Jasmine never develops on screen. Naomi Scott and Mena Massoud are both attractive for sure, but they are unconvincing as a couple. Jasmine is given a new Alan Menken song about female empowerment belting out "I don't want to be silent/You can't keep me quiet." While it's a timely sentiment, there was not enough power in the delivery. The signature song should have been "A Whole New World" but that is saved for the bitter end, lost over the credits. 
Nasim Pedrad,(New Girl, SNL) as Jasmine's lady-in-waiting, has an easy screen presence and is the "comic relief" utility player. Her scenes would have been funnier if writers Ritchie and John August had given her character a little shading. The evil Vizier, Jafar (Marwan Kenzari) has a sneering visage that let's the kids know he' the bad guy, but aside from the moment he pushes Aladdin off the balcony he's just a cookie-cutter villain.
Plus, Abu the monkey and the Iago, the evil parrot, were obvious CGI creations that fell flat. The parrot looked disheveled. Voiced by Alan Tudyk, the audio level  is almost inaudible, and so electronically processed that it's hard to understand the words.
The monkey is supposed to have some personality, but he's neither cute, nor funny. Like much of the movie, there's not much emotion coming from these characters. Actually, the animated character with the most personality that gets the best laughs is the Flying Carpet. Even the tassels seem "talk." The carpet is the the most fun action superhero in this film.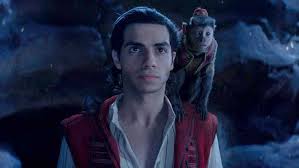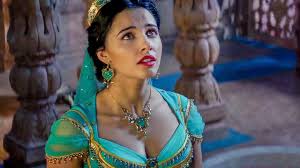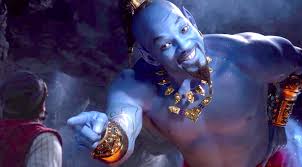 At a little more than 2 hours, this film is long, but not epic. Probably too long for little ones to endure unless they get caught up in the visual eye candy of the loud, neon-colored costuming that is sometimes more comical than the written material. Will Smith's Genie is actually lovable. But Jafar might be a bit too scary for little ones and the pacing for those threatening scenes is halting and awkward. 
Once again, The Disney Company will come into criticism for this live-action remake of an animated classic. (Take Dumbo. Please?) The Broadway musical was a parents pleaser well-received by the kids, but this seems a blast grab for every last buck from this property. Unless, of course, they plan to come up with a few new rides at the Parks! There are several scenes going into the cave to get the lamp and riding the carpet that we could see turn into park adventures.
Parents will take the kids out of nostalgia, but be disappointed with the results. The saying, "Everything old is new again" may work sometimes…but not for this live action version. This carpet ride never takes off.
Walt Disney Studios Motion Pictures      2 hours 8 minutes    PG
from Movies and Shakers http://bit.ly/2VXShsj