Kenneth Branagh inhabits Shakespeare trying resurrect family life after his precious Globe Theater burns down. Branagh wanted to make a movie showing where the " genius met the man." He has directed, acted and researched every minute detail of the Bard's life and works and writer Ben Elton (Much Ado About Nothing film) incorporates as many details as possible in the well-written script. How could you have dialogue not befitting a story about Shakespeare? All is True is an alternative name given his play, Henry VIII.
Branagh directs and stars in the film which picks up after a cannon used in the production at the Globe Theatre caused the blaze. Luckily, all 3,500 people in the theatre got out.  He never wrote a play again, but he did continue to write love poems or sonnets. Branagh takes his time telling the tale, trying to reveal Shakespeare's revelations about his regrets as well as the importance of family. 
In this film, we find him returning to his home and family in Stratford-upon-Avon where he has to make amends for neglecting his wife and family while he became famous. They are truly resentful. There are still a few missing pieces of his personal story that bothered Will greatly. The death of his only son haunted Shakespeare  because he was off being famous when his son, Hamnet died.
Branagh studied portraits of Shakespeare to come up with his appearance as Shakespeare in the film. He fused the first portrait put in London's Courthauld gallery in order to re-create it. During the hour and a half of makeup, plus a prosthetic and a wig, he'd close his eyes and wake up an hour and a half later completely transformed into another person.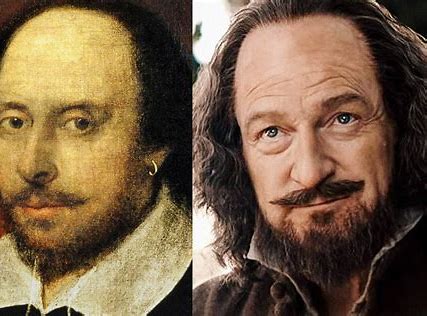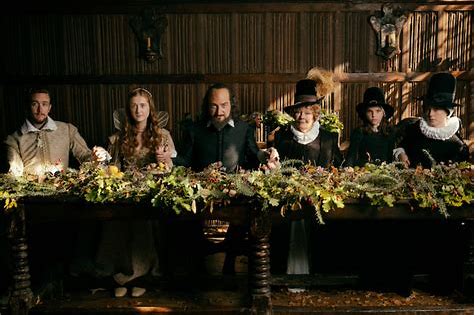 Judi Dench plays Shakespeare's resentful wife, Anne Hathaway, who has a decided edge about having to mind the store while he was plying his craft away from the family. She had to deal with the death of their 11-yer-old son alone, and raise their 2 daughters, Judith and Susanna who also give him an icy reception. At one point Dench calls him out saying "You
have lived so long in imaginary worlds, you don't know what's real or true. 
Director  of Photography, Zac Nicholson (Red Joan, The Death of Stalin) creates lovely landscapes in daylight and stunning candlelit scenes that create their own ambiance at night in Shakespeare's home. 
The highlight of the film for us was an intimate scene with Ian McKellen as the Earl of Southhampton where he and Shakespeare discuss one of Shakespeare's sonnets in a fireside chat. Their back and forth is mesmerizing as flames from candles surround them with the fireplace burning in the background. The closeups on McKellen as he delights in repeating lines of Shakespeare's sonnets coupled with conversation are  so inspiring, it's thought that's what inspired Shakespeare to write more poetry.
But the film keeps coming back down to earth with the sadness of losing his son and the guilt of his not being there when he died. In one scene, Shakespeare runs in slo-mo towards the pond reflecting on the error of his absence. His son haunts him throughout the film and even had written a half a dozen plays about the loss of a child. In addition, both of Shakespeare's daughters were embroiled in sex scandals, embarrassing the family, even getting chastised for their bad reputations in front of everybody in church. Whoops!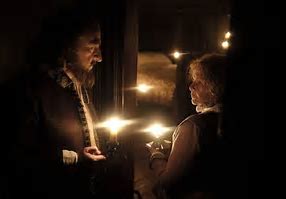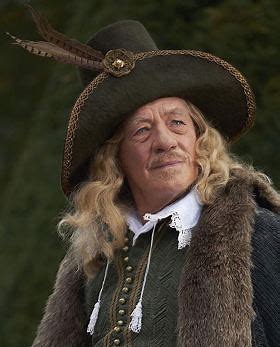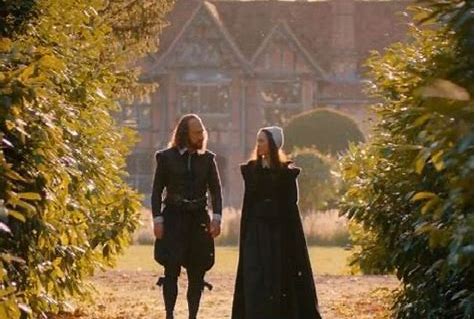 Branaugh and Dench as Shakespeare and his wife, Anne, get into it too. He expects to bed with her and she shuts him out upon his return. They reflect several times on when they first got together and why it is icy now, but finally come to terms. She was well aware of his talent and his faults and becomes arbitrator eventually bringing the family together. Interesting that his wife and one of his daughters could not read or write and we get a heartwarming scene showing her satisfaction at finally getting to write her name on an all-important document. There is also a surprising turn about his relationship with the feisty daughter that could write.
Shakespeare never lived down his past. He was intent on trying to prove himself better than his father who was a common thief. He actually paid the equivalent of $5000 to get a coat of arms so he could get a title and be acknowledged as a gentleman but it didn't change how he was perceived. 
This film is enlightening. There are all manner of little tidbits of information about the great writer's life and work. We get to see a side of the Bard we never knew. He died 3 years later in 1616, but seems to have put some of his problems aside. Shakespeare was revered for his talent writing classic comedies and tragedies about love and life, which he struggled with himself. We think Shakespeare would be proud to see what Branagh has done following the advice of his idol's motto, "Never get in the way of a good story." This film is much ado about something. And Branaugh shows that Shakespeare's life was, indeed, something. 
Sony Pictures Classics      1 hour 47 minutes       PG-13
from Movies and Shakers http://bit.ly/2Hs5RuZ