This picturesque period film follows the life but not the imagination of the creator of The Lord of the Rings and The Hobbit. Finnish Director Dome Karukoski recreates the events of Tolkien's early life but gives too little time to his creative process. Tolkien's books were magical, but this film doesn't make his fantasy world as accessible on film as we would have liked. 
The director shows how Tolkien came from tragic beginnings with a single mother who passed the art of bringing storytelling to life by acting them out with her two sons before she died. The fun scenes with their mother become memories as Karukoski follows the orphaned brothers who are placed living a stifling existence in a strict dowager's home. Tolkien's defense mechanism for survival was his imagination. He dreamed up fantasies and played with language, coming up with his own. 
The first third of the film is very dark showing the struggle of these two boys and the resentful and rebellious attitude Tolkien exhibited trying to find his as a young boy. His adamant stance about the correct pronunciation of his name as Tohl-KEEN is a case in point. (Most people still say Tohl-kin, even resident expert Stephen Colbert.) He was bullied because he was poor and an orphan, but managed to get a good education and finally make fast friends who gave him a sense of belonging. His buddies provided camaraderie, comfort and confidence he wasn't getting anywhere else.  
Nicholas Hoult (X-Men, Warm Bodies), plays the grownup Tolkien. Hoult was given The Hobbit to read when he was a boy making the film, About a Boy in 2002. He actually used the very same copy as reference for this role. Hoult has developed as an actor and as a hunk of a heartthrob for the love story which is the best part of this film.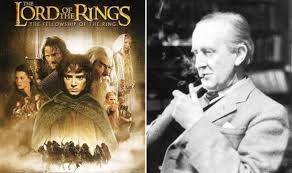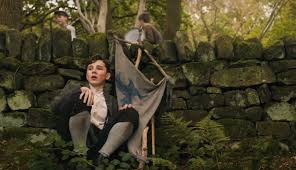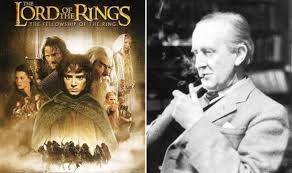 Lily Collins is perfectly cast as Edith, the orphan who met Tolkien for the first time at the age of 16. They were both living in the dowager's house. For Collins, this role was kind of destined. She auditioned for the part of the Elfin princess in The Lord of the Rings, but lost the part to Evangeline Lilly.  Here she gets to play the muse that inspired Tolkien to create that character. What goes around, comes around. They are cutest in scenes together when she's goading him into talking more about his ideas for his writing and art. Hoult got so into the role, a photo of him exists showing him drawing Tolkien style pictures while in his beast mask on the X-Men set. You get to see some of his own artwork in this film. 
Both Hoult and Collins are excellent portraying the oppressed orphans who developed a close friendship and acceptance of each other's talents. And the scene when they finally realize they can't live without each other is touching. He almost lost her when he went off to fight in WWI: The War to End All Wars.
Karukoski uses very dark imagery of the battles Tolkien fought in Somme, France which almost did him in. Walking through muddy bunkers and fields filled with bloody bodies took their toll on Tolkien but gave him fodder for the darker sides of his stories. To get an understanding of what it was really like, see Peter Jackson's digitized documentary of life in the trenches, They Shall Not Grow Old. Tolkien's wartime experiences also supported the attitudes of his characters to fight and stand up for evil.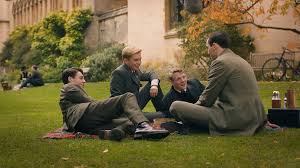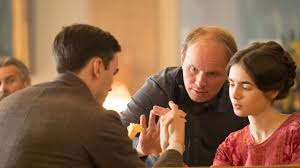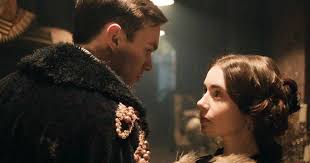 We wish Karukosky had shown more specific visions foreshadowing what he put in epic stories and artwork. We know they inspired his portrayal of Middle-Earth. The DEAD Marshes are thought to be directly from The Two Towers he saw in the Somme. But we wanted to get more inside his head to see how he transformed  and developed these images, then incorporated them into his writings. We wanted to see more how the magic happened. 
If not for the beautiful love story, this film would have become just a step-by-step biopic of Tolkien's early life. Tolkien and his Edith are even named Beren and Luthien on their tombstones, paying homage to Tolkien's characters. They lived happily ever after. But we wanted to see more of how Tolkien's visions turned into the mythical adventures generations of readers have devoured. Unfortunately, this film didn't match the creativity of his subject. 
Fox Searchlight Pictures                  112 minutes                PG-13
from Movies and Shakers http://bit.ly/2HrkZaX