This tribute to the famous late choreographer, Merce Cunningham, is an exercise in frustration, not only for the dancers trying to perfectly replicate his work, but for us watching. Director Maia Wechsler methodically follows New York choreographer Stephen Petronio and his dance company as they repeatedly rehearse to resurrect Cunningham's famous Rainforest. Petronio wanted to be the first, and is the only one so far, to bring it back because Cunningham believed that "If a dance is not danced, it vanishes."
Petronio wanted his company to perform it as a centennial celebration of the birth of this modern dance icon and he brought in dance veterans who actually performed under Cunningham to train the dancers in his own company. Meg Harper, Rashaun Mitchell and Andrea Weber painstakingly describe every nuance and movement as well as what it was like working with "Merce." More important while rehearsing for months was how difficult not only the moves are, but getting it right emotionally.The pressure they put on these dancers often gets overwhelming. It's understandable but sometimes too strident expecting these performers, who are exceptional in their own right, to get inside the master's head. 
Andrea Weber takes the lead in pushing Petronio's dancers to reproduce every leg, arm and body twitch as she did performing in Cunningham's company from 2004-2011. She is competent, but strict. There is footage of her dancing as well as Rashaun Mitchell and Meg Harper in original performances and we would have liked to see a split screen showing them along with Petronio's dancers as they tackle the choreography.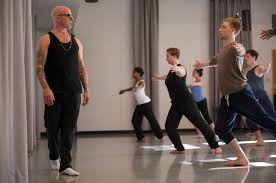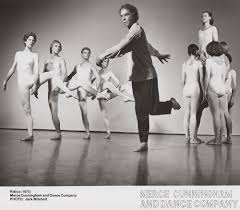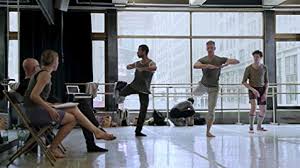 We understand that this was to be an exact replica, down to the costumes and set. Andy Warhol was responsible for the inflated mylar balloons for the original avant-garde ambiance. Petronio's dancers had fun when introduced to same, but it is all very serious business during the rest of the film. 
The camera follows some of the dancers home to reveal more about their personal lives and how they feel about the rigorous training they face trying to replicate Cunningham's work. It's especially interesting learning about Gino Grenek, who is 42, often considered old for a dancer. He is Petronio's accomplished right-hand in the company and was given the lead which Gino felt was daunting. He expresses his reservations honestly and you become sympathetic to his knowing how difficult this will be for him. We were pulling for him all the way. Same for Davalois Fearon, who found the choreography more than challenging. She is the first African-American to dance Cunningham's difficult work and it was interesting to see how Petronio had Merce's original nude-looking costume design replicated, down to dying hers to match her skin.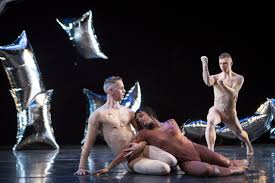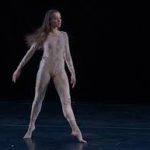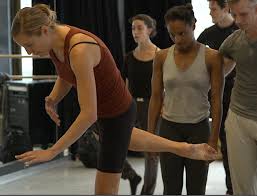 Director Maia Wechsler and her editor Mary Manhardt stayed on point with a difficult editing job to make this film hang together. It is almost too repititious. You get all too familiar with the very athletic and precise choreography which at times seems to be micro-managed. If you're not into dance particularly modern dance, this might not be for you.
We almost wanted to see what Petronio's company would have done with their own interpretation. But that was not the goal. This a great tribute to Merce Cunningham and it was satisfying to see how happy Petronio is and how relieved these dancers were to have successfully pulled off what many thought was long gone. Cunningham died in 2009 at 90, requesting that his company be disbanded upon his death. But Petronio brought his legacy back to life. As the master expressed "If the dancer dances, everything is there."
from Movies and Shakers http://bit.ly/2VNonWL