With religious liberty, "The Devil is in the Details." Satanism is the subject of this documentary directed by Penny Lane (real name). Lane continues her quirky, funny, yet intelligent film-making style with this inside look at The Satanic Temple. In our interview, Lane is energetic and descriptive explaining how and why she picked this project. She told us that although she's an atheist, she agrees with many of the tenets and values of Satanism and it made her think about her own beliefs. That's what she hopes this film will do for others. 
Lane is known for Our Nixon, which shows home movies shot by staffers inside Tricky Dick's White House, and her film, Nuts!, a gonzo chronicle of a medical huckster who made a fortune from a potion made of goat testicles. 
Though perhaps not quite as over-the-top outrageous as her previous projects, Hail Satan? still has some jaw-dropping, laugh-out-loud moments following the followers of Satanism. These people possess depth beyond abundant tattoos, goth make-up, inventive costumes, and a creepy Baphomet statue, Lane uncovers more here than simply wanting to tweak The Establishment. 
These misfits band into a group of idealistic rebels standing up for American values like religious liberty, freedom of expression and separation of Church and State. It began as a movement and was just recognized as a religion with tax exempt status and all. Lane shows the meager attendance in their first protests, and when we asked about what surprised her when she went to back to edit the film, she said there was one. The rally she shows at the end of the film is attended by hundreds. It's a graphic example of the growth of Satanism which she shows is expanding globally. Of course, when it comes time for a location for the actual national headquarters it has to be in Witch City, Salem, Mass.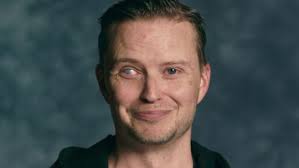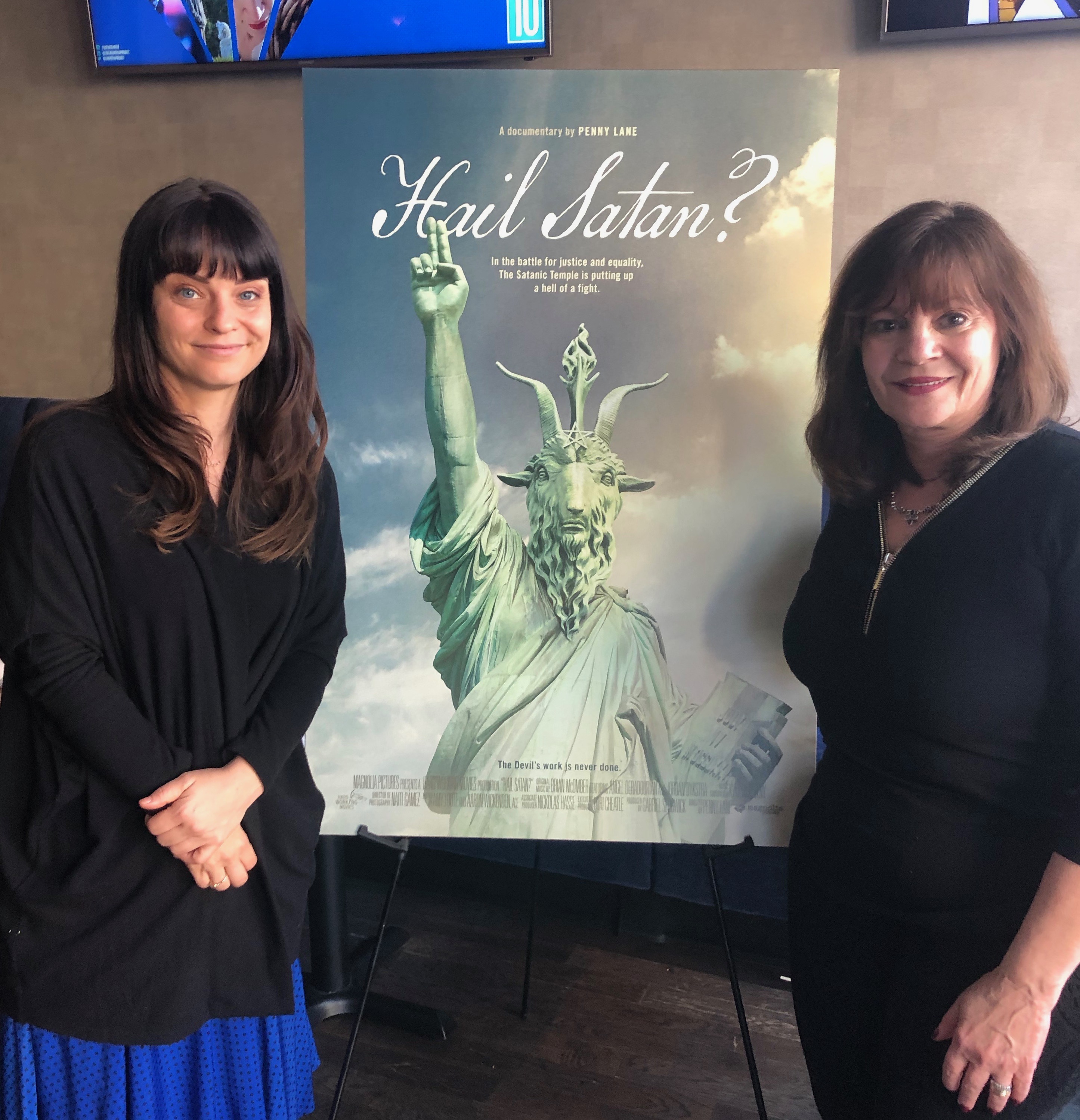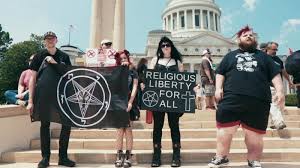 One of The Satanic Temple's founders, Lucien Greaves (not his real name), becomes a focus for Lane's narrative. He's a soft-spoken, rather shy leader who doesn't deliver fire and brimstone as much as thoughtful arguments why Satanism deserves the same rights and respect as "mainstream" religion. Some think his glazed looking right eye makes him look scary, but he's quite harmless. 
As the movie opens we're introduced to Greaves on the steps of Florida's Statehouse in Tallahassee. He sarcastically leads his group in praise of then Gov. Rick Scott who wants to put prayer back in public schools. Greaves yells, "Hail Satan, hail Rick Scott" thanking the Governor. The misguided Scott's proposal is clearly contrary to the Constitution by favoring one religion over another, so every religion (including Satanists) could sue to be included in school prayer as well!
As Lane's camera follows the traveling Satan show to places like Detroit, Alabama and Arkansas, she drops in footage from decades old instructional religious films that, sometimes in extreme or comical fashion, warn of the dangers lurking behind Satanism. 
But she also introduces some thoughtful interviews with academics like Princeton History Professor Kevin Kruse. He gives context and credibility to the Satanists for standing up to religious intolerance and the First Amendment right to free speech. Without hateful rhetoric or any threat of violence, Greaves and his merry group are exemplifying what the best of religion should be: respect, empathy and compassion. What they are really looking for is freedom FROM religion.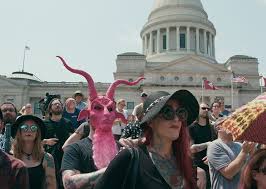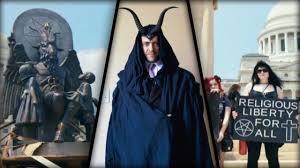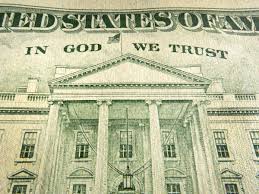 To prove their point Greaves has a statue made of the Satanic god Baphomet, who pretty much looks like Hellboy from the movies of the same name. He wants permission to place his statue on Arkansas' Statehouse grounds alongside the newly introduced stone tablets of the Ten Commandments. Plenty of eyebrows were raised. 
No growing movement can escape controversy. We're shown a split in the Satanist Temple when one faction decides the movement should be more aggressive and confrontational. Greaves refuses to go down that road. It's refreshing to see a leader stick to his principles.
Above all Hail Satan? serves as a potent history lesson. Until seeing this film most viewers won't know that the Pledge of Allegiance didn't use the phrase "under God" until the 1950's and the same is true for "In God We Trust" printed on our currency. The Reverend Billy Graham came up with that phrase that appears on all United States currency. This was all a reaction to the Communist hysteria of the Joe McCarthy Era. 
This film celebrates, everybody, including misfits and rebels who follow Satanism. They remind us what this country, and religion, should stand for and embrace. Diversity, nonconformity, freethinking and a willingness to stand up for principle is noble. Penny Lane shows us all this with plenty of laughs thrown in. Hail Satan?  is a hail of a thought-provoking good time.
Magnolia Pictures           95 minutes         R 
from Movies and Shakers http://bit.ly/2PIoM7g