The unlikely pairing of Charlize Theron with Seth Rogen proves hilariously that politics makes strange bedfellows. Director Jonathan Levine (Warm Bodies, 50/50) fills this smart rom com with slapstick, sight gags, and silly sex scenes, but the chemistry between Theron and Rogen works. 
Rogen and his producing partner, Evan Goldberg (Superbad, Pineapple Express, This is the End, The Interview), are at it again. Rogen was afraid to ask Theron to do her first comedy with him. He only knew her in roles  as a killer and she's such a good actor, he would kind of space out watching her work during their scenes. They started tossing around ideas and jokes 5 years ago and kept talking until they found they were on the same wave length. And with politics more in the news than ever, this was a good time for a fun romp based on a candidate and a speechwriter. 
Theron plays Charlotte Field, a slick, sophisticated, smart and sexy U.S. Secretary of State. He is Fred Flarsky, a bright, funny, unkempt reporter who looks like he's still wearing the sloppy clothes he wore in college. But he's a good writer who just got fired for refusing to abandon his principles. He plays a screaming liberal who just couldn't go along with the new owner's right-wing political bent. Rogen pretty much gets to play his loud, funny, human self. All you do is hear Rogen laugh and you laugh along with him.  
Flarsky, (they almost used that for the movie's title, goes with his supportive good friend Lance, (O'Shea Jackson Jr.) to a posh political party where he's recognized by Charlotte. When they meet and figure out how they know each other, he gets flustered and ends up making a grand exit bouncing face-first down the stairs and sliding like a seal in front of the whole crowd.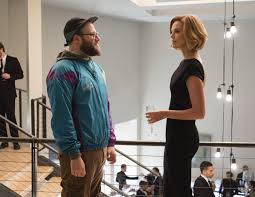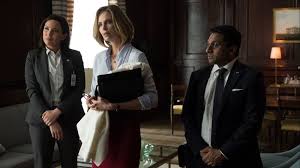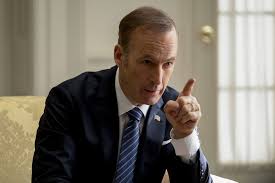 When Charlotte finds out that the flaky, dimwit President (Bob Odenkirk) is not going to run again, she decides to go for it. That's when she summons the guy she babysat for when he was 13 and she was 15 to humanize her stump speeches. The big impression from that childhood encounter was the boner he had in front of her,  his first crush. 
Now, Flarsky gets hired in spite of Charlotte's officious right hand assistant's objections. And they have plenty of political battles about how to cover the campaign. Maggie (June Diane Raphael) is her #2 and fights Flarsky's appointment with everything she's got. Raphael is great as the hard nose operative who is  afraid of losing her power position within Charlotte's campaign.  
It's all new to Flarsky. Now he gets thrown into all the fancy planes, parties, protocols and presentations he has to deal with in a high pressure political campaign. The way he cleans up to have a more fashionable presentation for his position is impressive. His clothes are almost as fashionable as hers. This plays a bit like a male Cinderella fairy tale. 
Dan Sterling and Liz Hannah wrote the screenplay which bring the two characters more in sync with each other as their interaction progresses. Flarsky gets a little more sophisticated, but the best part is when Charlotte gets to let down her guard and have a let's-get-wrecked night with her new/old friend and cohort. Only now they can get high and have sex. 
There are a couple of provocative sex scenes. One has been criticized for coming together too quickly and unrealistically. Theron reportedly told the director she was just too tired to make it last. Another tryst shows Charlotte ordering Flarsky to specifically do what she wants. His surprise reaction is priceless.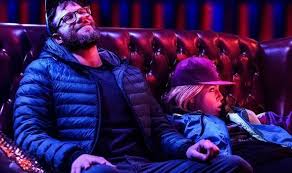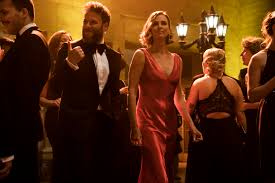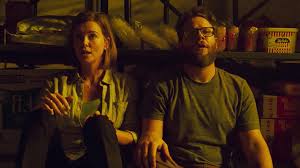 Jealousy comes into the picture with the handsome hunk of a Canadian Prime Minister (Alexander Skarsgård) trying to put the moves on Charlotte, but she and Flarsky realize pretty quickly what a doofus that guy is. It doesn't do much for the story. 
Of course Flarsky's antics will eventually threaten Charlotte's campaign and the conniving Right Wing media mogul who had him fired, is played with seething relish by Andy Serkis. You never know where Serkis will turn up. This is not one of his best performances. 
But Theron and Rogen give it their all. They are fun to watch playing off each other. It's like the old rom coms where opposites attract and create a lot of laughs along the way, so many that you may still be laughing and miss the next punch line. But there's a lot to soak up and enjoy. This film feels like a throwback paying homage to the old romantic comedies, but now they get to create comedy with more sex, booze, and weed. 
Summit Entertainment      2 hours 5 minutes     R
from Movies and Shakers http://bit.ly/2GQJCgU