Dame Judi Dench is compelling as a spy in this drama, but we wish this film, billed as a thriller, had been more exciting. It's more of an anti-war film, but told through the life and romantic liaisons of a young woman who wanted to be a scientist. The film begins with Joan as an elderly woman living in a quiet British neighborhood being arrested by M15 for spying. Her clinical interrogation is interrupted by flashbacks showing the events leading to this point in her life. 
Stage and TV Director, Trevor Nunn based the film on a novel by Jennie Rooney. It's the true story of Melita Norwood who was an assistant to scientists at a top secret nuclear research facility in Great Britain. The Young Joan is played by Sophie Cookson (Kingsman: The Golden Circle). Joan is smart and beautiful. Her early friendships while attending Cambridge university greatly influenced her political leanings which came into play when she became privy to the research being done to create the atom bomb
Writer Lindsay Shapero changes Melita Norwood's name to Joan Stanley, played by Dench. Norwood's parents were socialists who published articles on Lenin and Trotsky. But we meet Joan as a young woman at Cambridge University where she falls for the boisterously committed communist loyalist, Leo (Tom Hughes – TV Series Victoria). He takes her to meetings and they have a passionate relationship while she becomes somewhat indoctrinated. He calls her, "My little Comrade" which plays as poorly on-screen as it does on the page. Leo goes to Russia to become even more politically involved.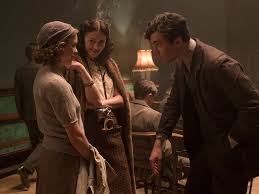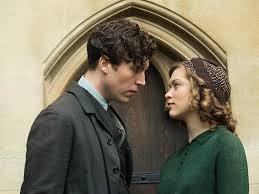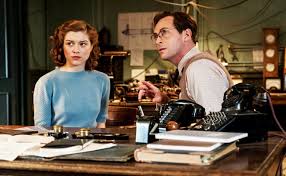 In the meantime, Joan, is studying physics to become a scientist in the 1930's when that was neither popular nor acceptable for a young woman. But because she is smart and trustworthy, she gets a job as a secretary at a secret nuclear research facility. Her boss is married, but that doesn't stop them from having an affair. The lovemaking with Leo and with her boss is not very exciting, nor done with much feeling. It's perfunctory and more like going through the motions. 
Leo comes back into her life urging her to copy secret atomic bomb files and get the plans to him and thus the Soviets. With prodding from Leo's sultry friend, Sonya, (Tereza Srbova), Joan cooperates. It becomes a case of cloak-and-dagger timing trying to transfer and deliver files without the benefit of today's technology.
There is a scene where young Joan is watching newsreels in a theater showing the dramatic power of the bomb that was dropped on Hiroshima and Nagasaki revealing the horrific consequences. She thinks that if more than one country has The Bomb, it will make leaders think twice about actually deploying these weapons. That was her miscalculation. She thought she was serving a purpose for the good of humanity. 
There just isn't much passion in Young Joan (Cookson) for the man she supposedly loves even when he finally gets a divorce and marries her. Even in the face of her spying being uncovered it's still pretty bland fare. She and her new husband flee to Australia and have a son, but it's not really spelled out.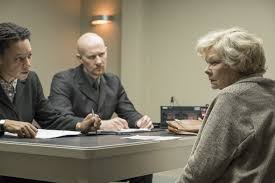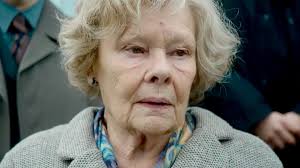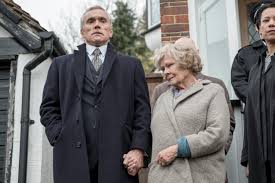 Back being interrogated and arrested, Joan, for the first time in her life, is being treated as a criminal and her son, Nick, (Ben Miles) finds out for the first time what his mother has done. Dench plays Joan as confused and embarrassed in front of her son. He's a lawyer but even he is reticent to help her after he learns of her treason.
You keep hoping something dynamic will happen, and although it's always satisfying to see Dench tackle a role, she isn't in this film enough. She is the master of showing a variety of emotions with the slightest facial expression, and that's pretty much all she gets to do. The story itself is fascinating, especially the true outcome which Director Nunn billboards at the end of the film. This film depicts all the risks Joan took to try to save live. But in the end, it made no difference.
 IFC Films                      101 Minutes                 R
from Movies and Shakers http://bit.ly/2GD6lwx