Aretha Franklin takes you to church singing gospel in this nearly 50 year old film that almost didn't see the light of day. She sings inspiring church music, wall-to-all, for 90 minutes. Aretha is just 29 as this is performed,  and already had big hits to her name, but she wanted to go back to her roots, like she did as a child singing in her Daddy's church.
The Reverend James Cleveland, an accomplished musician and personality in his own right, is the MC as she records a 2 record album over 2 nights, January 13th and 14th, 1972. You see the primitive set up in the New Bethel Baptist Church in Los Angeles' Watts neighborhood. Backed by a choir dressed in black with silver sequined vests and led by the very animated choir master, Alexander Hamilton, even the high energy singers were brought, at times, to tears. 
Famed director Sidney Pollack, (Out of Africa, Tootsie, The Way We Were) had not done a documentary before, let alone one that was completely music. You actually see him pop up in the film taking photos and framing shots as the performance is going on. It's all new to him.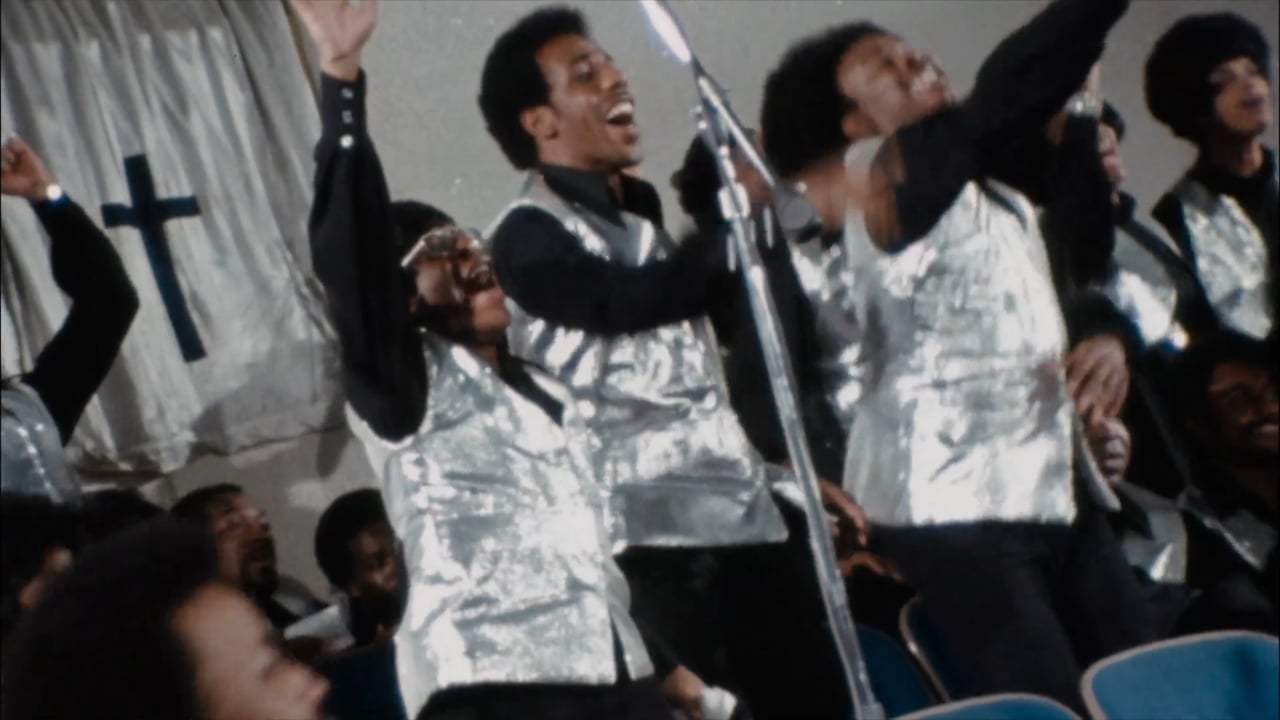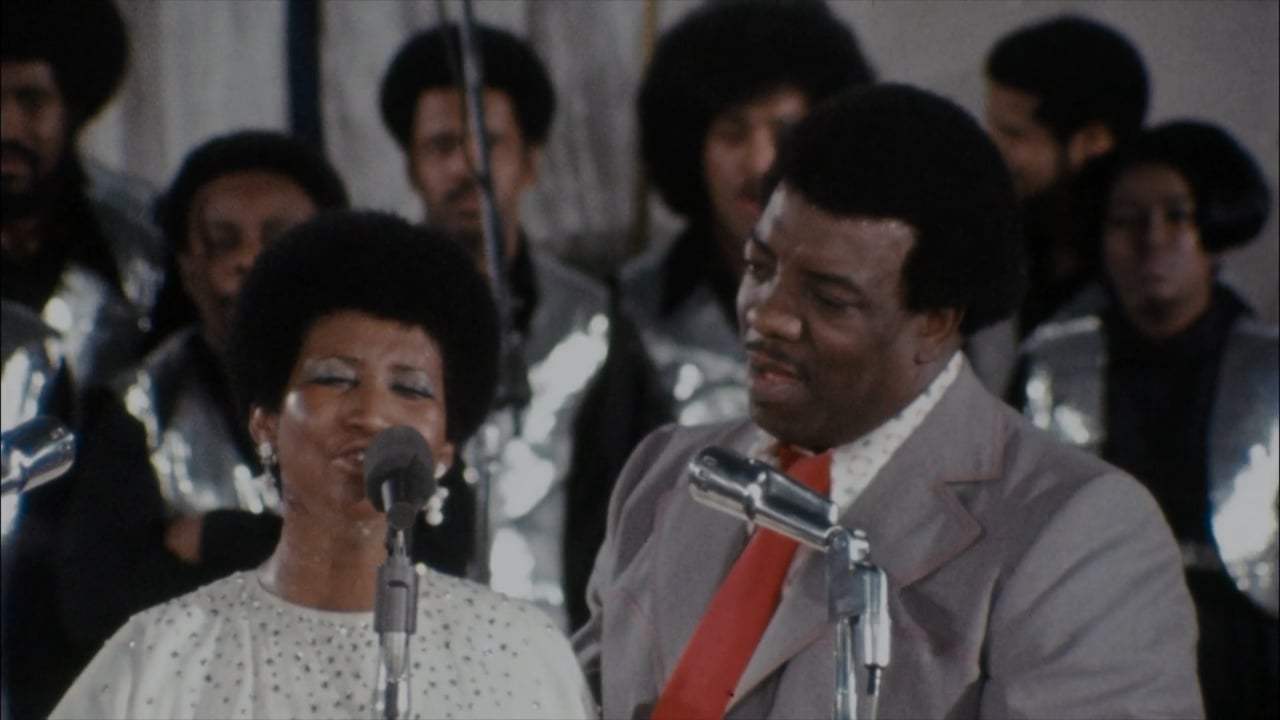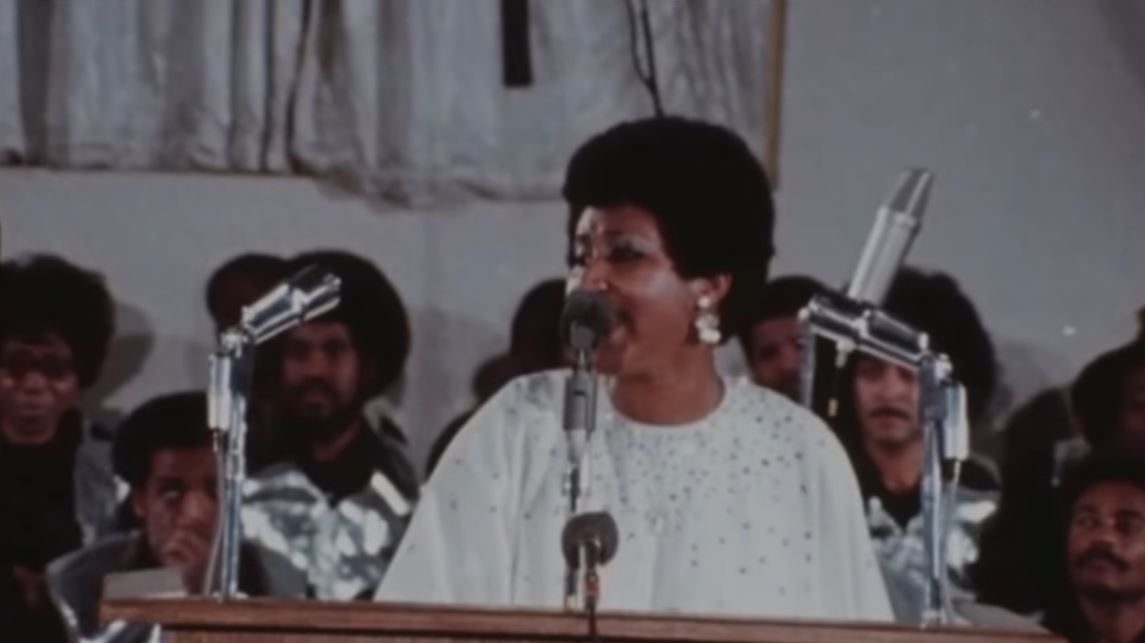 Gospel star, Clara Ward, as well as Aretha's father, C.L. Franklin came the second day of the shoot, so proud talking of his daughter and he even wipes her brow tenderly as she sings. You see  The Rolling Stones' Mick Jagger and Charlie Watts rockin' out, inspired along with the rest of the audience who periodically dance in their seats and wildly in the aisles when Aretha is wailing. They testify by calling out when she so moves them. 
Aretha does not talk in the film. She just sings accompanied by her band, drummer, Bernard Purdie, guitarist, Cornell Dupree and bassist Chuck Rainey. She plays piano and so does James Cleveland, who at one point loses it, breaking down in tears, so moved by Aretha's performance. She sings Marvin Gaye's "Wholy Holy," "What a Friend We Have in Jesus," "Precious Memories," "You've Got a Friend, "Climbing Higher Mountains" "How I Got Over" and more. And then there's her rousing rendition of "Amazing Grace."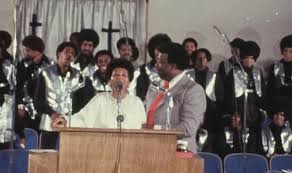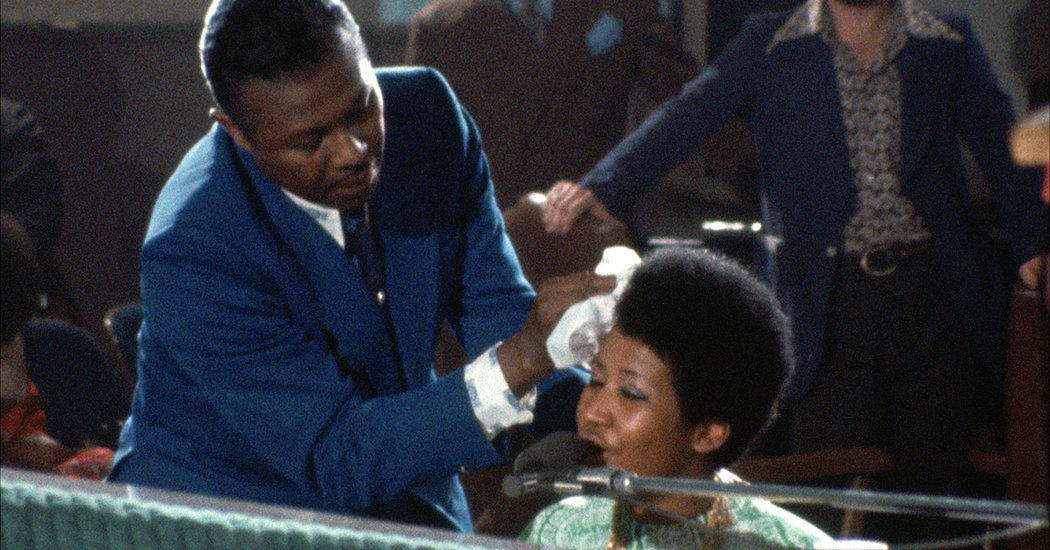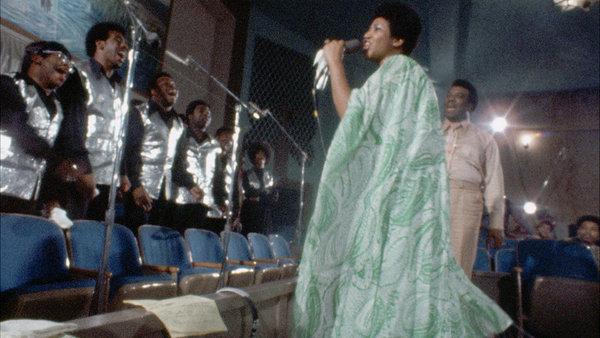 This project was practically doomed from the start, but the results, though raw, are definitely worth seeing. Director Sidney Pollack was completely out of his element with this project. This was before the sophisticated camera and sound equipment that has been developed over the past several decades. There were five 16mm cameras, but he neglected to coordinate starting the visuals and the sound at the exact same time so the 20 hours of film could not be synched. And that's what relegated the project to be shelved for decades. Pollack tried to keep it alive, but his other films got in the way. When he died of cancer in 2007,The project was handed over to producer Alan Elliott who found ways to make it work. 
Watching this film is so inspiring and a look into the past we were glad could be literally resurrected. At moments it is disturbing to watch, not for the content, but for the visuals that had to be cobbled together in order to put full songs together. You will understand why editing this film was such a nightmare. Elliott had to use shots where the camera is trying to find focus so lips and lyrics would sync. But the hand held video up close on Aretha's face while she is in The Zone affords an intimate window to her devotion to the words she's singing. Her voice is so pure. Seeing Aretha rise in this film, you can't help but be inspired. 
Neon            87 minutes           Documentary
from Movies and Shakers http://bit.ly/2GtR1T9