Can fiber optic cable be sexy and exciting? Not so much in this movie. Vincent (Jessie Eisenberg) and Anton (Alexander Skarsgård) are cousins who try in Canadian writer/director Kim Nguyen's (War Witch) fictionalized and dryly humorous tale. 
Vincent is a fairly amoral, fast-talking hustler while his cousin Anton is an IT genius savant. Vincent decides they should take on their Wall Street boss Eva (Salma Hayek) to bury a straight line optic fiber line from Kansas to New Jersey. Anton reluctantly agrees. The goal is to be able to deliver financial data 1 millisecond ahead of the competition. That's the time it takes for a hummingbird to flap its wing one time. That tiny sliver of time is worth millions to greedy traders. 
What begins as a quixotic quest of the little guys to take down the powerful establishment turns into a long slog trying to beat the clock and bring in enough equipment to line up a path under homes, farms, swamps and through mountains to fiber optic glory. Instead of exciting, it becomes a a frustrating repetitive drudge. 
Among the generally strong performances by the leads, the stand-out comes from the contractor Mark (Michael Mando, Better Call Saul) who understands what a herculean task he's being asked to pull off. Mando comes across as the most likable of the bunch and even becomes a caretaker when one of the leads gets sick.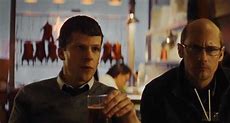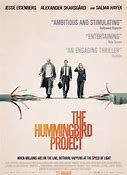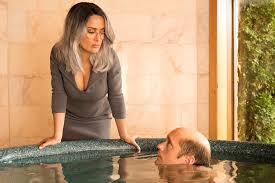 Eisenberg is no hero. Seems his driven compulsion to lay this cable just to make his troubled dreams come true and in the process he has another deadline to beat. His own. By the time he has his reckoning we don't really care that much. His fevered, frantic performance isn't far removed from what we've come to expect, especially from films like The Social Network. Skarsgård's Anton is ultimately more sympathetic. Skarsgård is meek, childlike and hunched over, focused on his codes. The actor's transformation into a bald, stoop shouldered, probably autistic family man is very different than his sharp, handsome appearances in other films. Anton's genius is a blessing and curse. Everyone, including cousin, Vincent, use, and somewhat abuse, his brain as a commodity. We feel his frustration and pain watching him struggle to create the speed-increasing code and reassure his wife and daughters he'll be home soon.    
Where The Big Short took complicated monetary policy and turned it into an entertaining, funny, jaw-dropping tale, this fable mostly lays flat. Vincent and Anton slowly disintegrate as the pressure from their investor and Eva's spying on her former employees' project ratchet up. Hayek has fun playing the one-dimensional  heavy. Her gray hair and cartoonish greedy, sneering, and growling all add to her cold persona. 
There aren't many moments of true human interaction in this film. We mainly see the frantic Vincent trying to keep his head above water while the walls slowly close in around him. One instance, however, that breaks through is Vincent's negotiation with an Amish Elder (Belgian actor Johan Heldenbergh) who refuses to allow any digging under his land. Vincent has no argument to counter a man who is not interested in money, technology or speed. This resonates with anyone who ever dreams of what life could be without a 24/7 connection.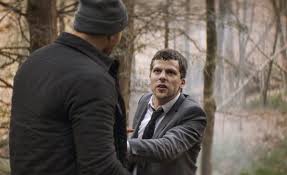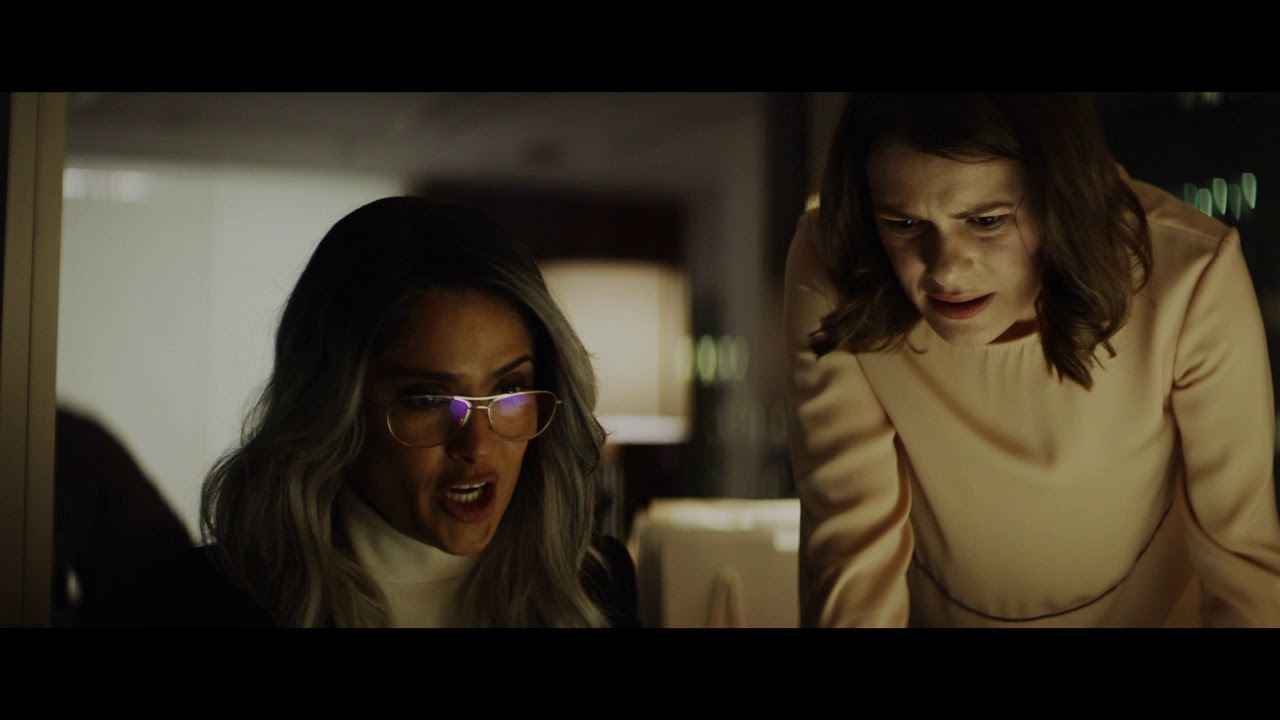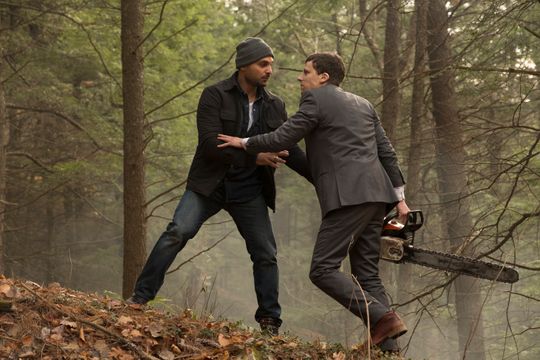 Nguyen makes an effort to keep things somewhat light with a score from Yves Gourmeur that keeps the atmosphere a bit more on the cheerful side. As drilling gets underway, you hear the upbeat "Stand Up, Let's Keep it Tight" song. But when Anton is working on his codes, opera is being played in the background. The cinematography by Nicolas Bolduc is serious and straightforward storytelling. There are a lot of scenes shot on dark, subterranean locations that remind us that this is not really a comedy.
Most problematic in Ngyuen's work is the shift he takes in the script. What begins as a movie that could feel like an entertaining David and Goliath heist caper, transforms into a story about time, money, mortality and family. Neither the messages he's trying to convey nor the eccentric characters he creates are able to pull it off. And it gets sappy in the middle. What we're left with is some obvious and trite conclusions about life and the human condition. "It's not the destination, it's the people we meet and the lessons we learned." 
This is a movie that has some moments, but falls short of being profound, especially about competition in the fast-paced world of technology today. The performances in The Hummingbird Project might be entertaining enough to get more than a millisecond of your time, but the film will not likely be long on memory.
Item 7               110 Minutes                    R
from Movies and Shakers https://ift.tt/2U3FQct