Trying to escape from a modern-day fascist takeover runs through this German/French subtitled mystery, romance thriller. German Jew refugee Georg (Franz Rogowski) is cynical, intense, subdued and effective in this role. We think he looks and acts like a combination young Joaquin Phoenix and Michael Shannon. He has a cold stare, but a warm heart. 
The Subtitles go by fast making it a little harder to keep up with the machinations of Georg and his interaction with those he encounters. But if you stick with it, this complicated plot is worth the journey. It's about refugees trying to escape persecution and what makes it more intriguing is that the main character unintentionally uses a false identity to try to flee. 
The film is an update and adaptation of Anna Segher's 1944 novel, Transit, about displaced people trying to find safety elsewhere. After watching a bit, you'll pick up on it being another film about the Nazi occupation of France. It shows that just like in the 1930's and '40's, having the right papers could be the difference between life and death.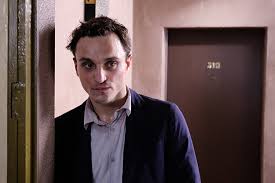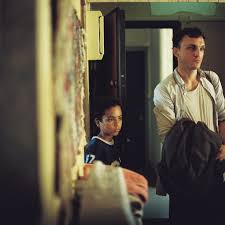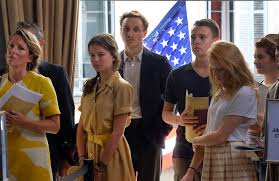 Georg not only takes Weidel's latest unpublished manuscript, but also the letters that were to be delivered. He intends to use them to get a reward he can use for his escape. Instead, the Mexican and American Consulates mistake Georg as Weidel himself. Georg realizes that this may be his ticket out. With his new assumed identity, he may be able to escape. 
While biding his time before his ship is to leave, he befriends a North African kid named Driss and his mother. Soccer is their first connection. This is where Georg is most human. Driss (Lilien Batman) provides a welcome reprieve from the stress of finding passage out of the country. Driss is engaging, but even more important, makes Georg more act more human and compassionate, giving him someone to care about.
Director Petzold must be a big Hitchcock fan. While Georg is hanging around waiting for his ship to sail, a beautiful, young woman, Marie (Paula Beer) pops up, appearing to be desperately searching for someone in particular. Every time she see Georg, she stops, looks and then, seemingly disappointed, runs off. It takes awhile to find out why.
The reveal is somewhat predictable, but Beer, who gave such a stellar performance in Never Look Away, is able to pull the erratic behavior off. Mysterious Marie has a story of her own tied to other men in her life. She finds herself attracted to George, which becomes the love story in this film. It reminded us, in part, of Casablanca.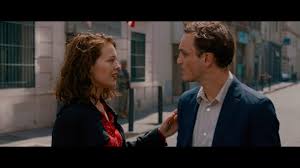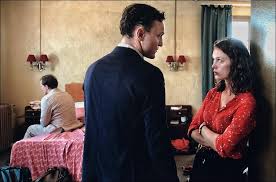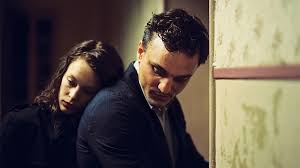 Stefan Will created a beautiful score that enhances the mood of romanticism in the face of danger for these characters. Marseille is beautiful, but grungy at the same time. Petzold captures this well with scenes of the ships on the crystal blue water against mountains in the distance but seen looking out a window from inside a dingy apartment. 
Following Georg's step by step journey encountering this curious collection of refugees brings awareness of the present day crisis. Without raised voices on screen, Director Petzold is screaming, in his own way, to warn us of what could come again. If we haven't learned the lessons of the past, this could be our future. The film provides enough romance and intrigue that we suggest you book passage for this understated thriller. 
Music Box Films          101 minutes         NR
from Movies and Shakers https://ift.tt/2UpButk