Rating: 3/4
Never take a Julian Schnable film for granted. His first feature in 8 years (Miral, 2010), At Eternity's Gate marks his long anticipated return, examining famed Post-Impressionist paint Vincent van Gogh. Schnable's portrait of van Gogh differs from Vincent Minnelli and Kirk Douglass' Lust for Life, and 2017's Loving Vincent. Here, The Diving Bell and the Butterfly director ceases to create a mythology (mostly), or decipher the artist's final moments. At Eternity's Gate, instead, through use of an uplifting lead performance, extreme close-ups, wobbly handheld shots, wide-angled lenses, and a nearly dissonant score, portrays how the artist saw the world. The film favors beauty in the extreme. 
Willem Dafoe in a followup to his Oscar nominated performance in The Florida Project, astounds. Yes, he slips in-and-out of his French accent. Still, the fear, loathing, and ecstasy of creativity and bliss he provides generates a captivating study. Schnable places Dafoe on that pedestal with unsettling close-ups and voice overs. During van Gogh's mental breakdowns, the close-ups contain hints of Dryden's The Passion of Joan of Arc, while the voice overs, narrated by Dafoe, act as first person introductions to each sequence of the artist's life.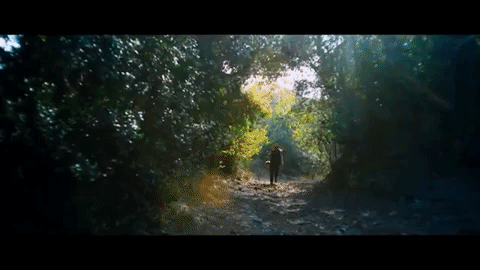 At Eternity's Gate follows van Gogh from his Parisian days, and his meeting of lifetime painting companion Paul Gauguin (Oscar Isaac), to his move to Arles, and his successive and notorious mental breakdowns. Van Gogh and Gauguin initially become acquaintances after an artists' assembly. Both, separate from their peers, van Gogh standing in the corner and Gauguin towering over all, form a quick bond. Gauguin recommends van Gogh depart to Southern France, Arles, if he desires to paint brighter works. Nevertheless, the two mix like water and oil-based paint. Van Gogh prefers rapid brush strokes, painting during the heat of inspiration. On the other hand, Gauguin possesses a measured approach, planning and parsing what he paints, before he paints. Isaac plays Gauguin as a mixture of himself, with an air of condescension and self confidence.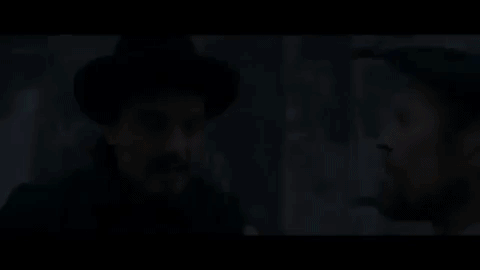 Even with their indelicate blend, barring van Gogh's brother Theo
(Rupert Friend), Gauguin understands him. The townspeople of Arles do not. While the painter creates his best works in the small village, most find him artistically inept, weird, and dangerous. Only Madame Ginoux
(Emmanuelle Seigner), one of the innkeepers, demonstrates any kindness or interest in him by gifting a ledger for sketching. Both interest and kindness wear quickly. Other than those two figures, van Gogh possesses but one patron, Theo. His brother believes in his talent, but worries for his safety. Knowing all too well how everyone misunderstands the painter and his works. 
Nevertheless, between van Gogh's mental breakdowns exists pockets of happiness. Schnable mixes wide-angled shots with shaky handheld camera movements as van Gogh runs and twirls through fields, rubs the earth across his face, and becomes one with his elements. These shots are also aided by blurred edges within the lens, creating a bifocal effect, presenting the artist's avoidance of a conventional unblurred vision. With the film's dissonant one-note piano score, gleeful gaiety of the moment gives way to an ecstatic unease. Said unease is the depression that lurks on van Gogh's doorstep, the fear of abandonment and loneliness. That fear arrives in one stroke, when Gauguin visits, disagrees with the painter's methods, and leaves. The abandonment scene, with van Gogh and Gauguin's dialogues overlapping and reverberating are like cries from time. The abandonment results in van Gogh severing his ear and his doctors committing him to an insane asylum (in the asylum he meets a priest played by Mads Mikkelsen). Dafoe's acting during the separation scene portend the future pain the artist will experience.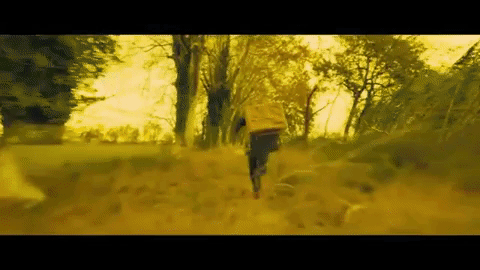 Missing in At Eternity's Gate are the peak moments. Not that there aren't major revelations and downfalls. Instead, unlike most biopics, the film rarely stops to say, or even show, van Gogh painting one of his major works like "The Starry Night." Schnable cares little for the career touchstones, instead insisting upon the milestones of the man. The method is unconventional and refreshing. 
Though Schnable has admitted to inventing portions of At Eternity's Gate, the most egregious occurs in the post-script credits. The audience is informed of the discovery of the ledger filled with sketches left by the artist to his innkeepers. This finding was made in 2008. However, the ledger has been declared a fake by the van Gogh museum on several occasions. Much like Lust for Life, At Eternity's Gate and Schnable can't help but add to the legend of a legend. The conscious deception is cheap, adding a distasteful ending to an admittedly beautiful film.   
from 812filmReviews https://ift.tt/2S1KXFw
via IFTTT